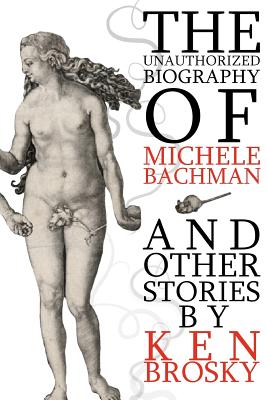 The Unauthorized Biography of Michele Bachmann (and Other Stories) (Paperback)
Createspace, 9781467974370, 142pp.
Publication Date: November 21, 2011
Description
A white man lost in Darfur. Phone hackers. Honey thieves. An Iraq War veteran searching for his missing leg in the dead of night. These are just a few of the characters inhabiting Ken Brosky's first short story collection, which features short stories that have been published in magazines including Gargoyle, Cream City Review, Barcelona Review, Pif, and more. If there's one theme running through all of the stories, it's survival. Every character approaches this theme in a different way. For the couple stuck inside a coffee shop during the Apocalypse, "survival" means getting through the next hour. For the middle-aged man who fears he might be downsized, it means going out on your own terms. How do you survive? Will you?

Reviews:

From phone hackers to an Iraqi searching for his missing leg, these are thought-provoking accounts packed with powerful images. They don't include Brosky's earlier horror writing, but they do provide a virtual feast of emotions that do include horror, humor and observations of the human condition. 'Amazon.com' is the only essay included in this collection of fiction, and provides a fine and unexpected survey of the internet giant. Brosky's short stories always open with a bang: "I knew this guy, babe, he could do things with his mouth you ain't never seen. And I ain't talking about sex here, all right? All right? Get your head out of the gutter and listen to me, because this is a story that's gonna blow your mind." That's part of his special power: imparting scenarios and openings that keep you reading. But the tension and unexpected twists don't end with the opening lines: it is evident throughout the chatty, involving story line: "It all started in the 1960s, when Cap'n Crunch cereal included a free toy whistle in every box. The whistle just so happened to produce a 2600hz tone, which is the exact same tone that AT&T used as a steady signal for unused long-distance lines."

--Diane Donovan, Midwest Book Review.
About the Author
Ken Brosky was born in Milwaukee, Wisconsin and received his bachelor's degree in creative writing from the University of Wisconsin-Eau Claire. He received his MFA from the University of Nebraska-Omaha and currently teaches English at various colleges in the Madison-Milwaukee area. He's currently averaging 3 short story publications per year and wants to keep it that way.
Advertisement