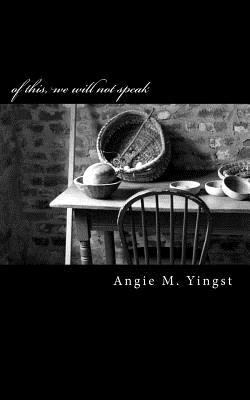 Of This, We Will Not Speak (Paperback)
Createspace Independent Publishing Platform, 9781468023060, 38pp.
Publication Date: December 3, 2011
* Individual store prices may vary.
Description
Blogger, writer and artist Angie M. Yingst's first collection of poetry touches on grief and heartbreak in work that spans over a ten year period.
About the Author
Angie Yingst worked in a corporate marketing department as a writer, editor and creative coordinator before becoming a stay-at-home mother after the birth of her first daughter. After her second daughter Lucia Paz was stillborn at 38 weeks on Winter Solstice 2008, she began exploring her grief through writing, poetry, painting, craft and art. Since Lucy's death, Angie has maintained a blog called still life with circles, dealing primarily with mothering and grief. In 2010, still life with circles was chosen as one of the top 50 Must-Read Mom Blogs by Parenting Magazine and Blogher. Angie is also the editor and a regular contributor for the website Glow In The Woods. Angie is also the founder and editor of still life 365, an art and poetry journal for grieving parents and family members to explore the different aspects of life after loss through art. In addition, Angie's essay, "Mothering Grief," appears in a collection of essays about stillbirth called They Were Still Born, published by Rowman and Littlefield in 2010. Her poetry and writing has been published in several on-line and print magazines including Mothering Magazine, Literary Mama, Exhale and the now defunct In The Rearview. When Angie is not writing, she paints and illustrates mizuko jizo and other meditation paintings dealing with babyloss, Buddhism and grief at her Etsy shop the Kenna Twins. Angie holds a B.A. from Temple University in Religion. She currently resides outside of Philadelphia, Pennsylvania, with her husband, children and dog.