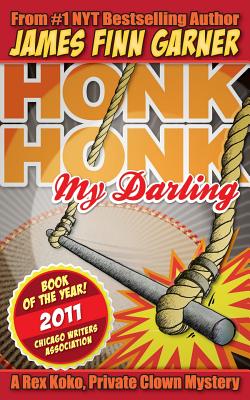 Honk Honk, My Darling (Paperback)
A Rex Koko, Private Clown Mystery
Createspace Independent Publishing Platform, 9781468087086, 178pp.
Publication Date: December 19, 2011
* Individual store prices may vary.
Description
Chicago Writers Association "Book of the Year -- Nontraditional Fiction" From the author of the #1 best-seller "Politically Correct Bedtime Stories" comes a hilarious thriller that establishes a new crime genre: Clown Noir. In Top Town, a ghetto full of washed-up circus lifers in the shadow of a big city, Rex Koko is a pariah. Yet this clown's brand of chaos helps him solve the most heinous crimes, as he tries to earn personal redemption. In "Honk Honk, My Darling," Rex is hired by an aging trapeze star to bring back his wayward wife. Every time Rex comes close to finding her, however, other aerialists come to gruesome and spectacular ends. Is Addie Carlozo a "black widow"? Is Rex really cursed with bad luck? Why is he being followed by those red-headed roustabout bastards, the Redd Brothers? And will "circus justice" intervene before the police do? Revenge, corruption and murder headline the bill in Top Town, where life comes 3 balls for a nickel. As the poet said, "Damn everything, but the circus
About the Author
James Finn Garner is best known as the author of Politically Correct Bedtime Stories, which was a #1 New York Times best-seller, and its two sequels, Once Upon a More Enlightened Time and Politically Correct Holiday Stories, both of which were also NYT best-sellers. The first book of this trilogy has been translated into more than 25 languages, and they are all enjoyed around the world, including China, Japan, Poland, Indonesia and Iran. His other books include Tea Party Fairy Tales, Apocalypse WOW! and Recut Madness: Favorite Movies Retold for Your Partisan Pleasure. His latest work is the clown noir mystery series starring "Rex Koko, Private Clown": Honk Honk, My Darling (2011 Nontraditional Book of the Year, Chicago Writers Association); Double Indignity; and The Wet Nose of Danger. These hard-boiled, big-shoed thrillers are available in print and electronic editions. In addition, Honk Honk, My Darling is available as a dramatic podcast. Check out RexKoko.com for more information and a face full of fizz water. Garner's writing has been published in The New York Times, Playboy, TV Guide, and The Wall Street Journal, among others. A former columnist for Chicago Magazine, his essays and stories have been broadcast on National Public Radio and the British Broadcasting Corporation. He is also a performer and a noted public speaker. He is the co-founder and custodian of Bardball.com, a website that aims to resurrect the art of baseball doggerel. Bardball is a fan-driven site that publishes new poetry every weekday during the regular season, and welcomes reader submissions, both lofty and lascivious.