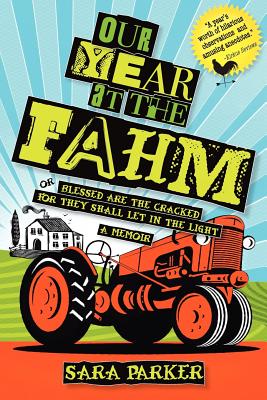 Our Year at the Fahm: Or, Blessed Are the Cracked for They Shall Let in the Light (Paperback)
Or, Blessed Are the Cracked for They Shall Let in the Light
Createspace Independent Publishing Platform, 9781468150612, 182pp.
Publication Date: April 12, 2012
Description
Sara Parker details her bold move from temperate Northern California to snowy, rural New England following her job loss in the financial disaster of 2008. Parker is disillusioned by Wall Street, skeptical of politicians and searching for new professional direction. In a move spurred by financial desperation and emotional burnout, Parker and her partner pack up their three cats and drive cross-country to settle at a 270 year-old farm in Massachusetts owned by a family member. The farmhouse desperately needs some loving care, an opportunity that appeals both emotionally and financially to the struggling couple. The plan consists of spending a year at The Fahm, and the travelers arrive in time to enjoy a glorious New England autumn prior to the deep freeze of winter.

What follows is a year's worth of hilarious observations and amusing anecdotes. The Fahm is covered in mouse poop and appears to be a vortex of bad luck, yet Parker adapts beautifully using a combination of wry humor and a full measure of patience. Despite mice and snakes, an old belching furnace, massive snowstorms and floods of biblical proportion, Parker perseveres, all the while documenting her everyday experiences. Initially a series of blog posts, the book holds together well; posts are sprinkled with observations and insightful quotes on topics ranging from politics to economics. Her voice and sense of humor come through loud and clear. Parker's stories should inspire laughter and groans at the couple's continuous run of mishaps, yet one cannot help but applaud her strength and perseverance. She is on a journey to find meaning and direction in life, a path that is certainly familiar to many of us. - Kirkus Reviews


About the Author
Sara Parker lives and writes in Massachusetts and California. This is her first book.
Praise For Our Year at the Fahm: Or, Blessed Are the Cracked for They Shall Let in the Light…
A wonderful set of stories to be enjoyed from coast to coast, on sunny California days or chilly New England nights. -Kirkus Reviews
Advertisement