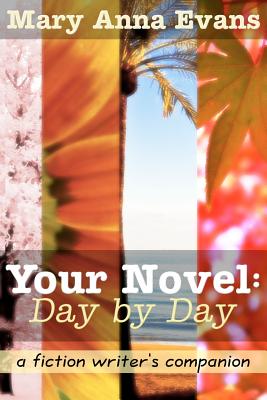 Your Novel, Day by Day
A Fiction Writer's Companion
Paperback

* Individual store prices may vary.
Description
Learn to write your novel with this all-in-one guide to planning, writing, editing, and publishing a first novel. YOUR NOVEL, DAY BY DAY guides a new novelist through the day-to-day details of the creative process. It is designed to support the goals of writers in all genres, from mystery fiction to literary fiction to science fiction, so that each reader can develop the writing skills needed to set and exceed creativity goals. Its author, Mary Anna Evans, is an awardwinning writer with ten novels, two nonfiction books, and a collection of short works to her credit. She says, "This is the book where I tell other writers the things I wish I'd known ten years ago." Work through this book of practical advice with Mary Anna, day by day and page by page, as she advises you on- crafting a plot, fleshing out believable characters, organizing a novel's timeline, crafting believable character motivations, editing objectively, evaluating traditional and independent publishing options, and marketing to agents, publishers, and readers. Because she understands the importance of maintaining your own motivation during the arduous process of writing a novel, Mary Anna has chosen a narrative structure that will provide you with a written companion for a year's worth of writing. This book consists of 365 essays on topics that range from nuts-and-bolts writing tips to words of encouragement to periodic kicks in the pants. She has even included the actual synopsis she used to query her agent and to sell her first book. The world of publishing is changing, and a new writer has a bewildering array of choices-traditional publishing, self-publishing, ebooks, print books, audiobooks, and various combinations of all of the above-but, first, that writer's book needs to be the best book possible. Let YOUR NOVEL, DAY BY DAY: A FICTION WRITER'S COMPANION help. If Mary Anna could sit with you, day by day, as you learn about this exciting art form, she would. Since she can't, this book is the next best thing. YOUR NOVEL, DAY BY DAY: A FICTION WRITER's COMPANION was written by mystery author Mary Anna Evans. She is a founding board member of the Anhinga Writers' Workshop and the recipient of the Benjamin Franklin Award in mystery fiction, the Florida Literature Award, and three Florida Book Awards Bronze medals in both commercial and general fiction. YOUR NOVEL, DAY BY DAY: A FICTION WRITER'S COMPANION draws from workshops she has given to aspiring fiction writers across the US. Her Faye Longchamp archaeological mysteries, ARTIFACTS, RELICS, EFFIGIES, FINDINGS, FLOODGATES, STRANGERS, PLUNDER, RITUALS, and ISOLATION, have been compared to the work of Tony Hillerman, Aaron Elkins, and James Lee Burke. They are available in print, large-print, and audio editions. Her short stories, "A Singularly Unsuitable Word," "Starch," "Land of the Flowers," "Mouse House," "Twin Set," and "Low-Budget Monster Flick " are available separately for Kindle, or as part of her collections OFFERINGS and JEWEL BOX: SHORT WORKS BY MARY ANNA EVANS. She is also the author, with Dr. Faith H. Wallace, of MATHEMATICAL LITERACY IN THE MIDDLE AND SECONDARY GRADES: A MODERN APPROACH TO SPARKING STUDENT INTEREST. She lives in Oklahoma.
Createspace Independent Publishing Platform, 9781468191691, 294pp.
Publication Date: February 20, 2012
About the Author
Mary Anna Evans is the author of the Faye Longchamp archaeological mysteries, the environmental thriller WOUNDED EARTH, the collection JEWEL BOX: Short Works by Mary Anna Evans, and MATHEMATICAL LITERACY IN THE MIDDLE AND SECONDARY GRADES: A New Approach to Sparking Student Interest. Her work has received recognitions including the Mississippi Author Award, three Florida Book Awards, a Benjamin Franklin Award, and an artist's residency from The Studios of Key West.