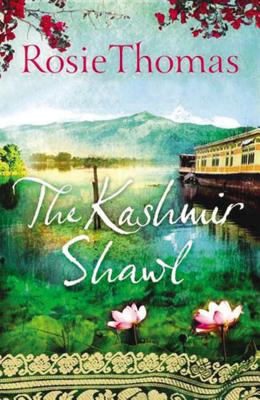 The Kashmir Shawl (Hardcover)
Overlook Press, 9781468302462, 480pp.
Publication Date: January 10, 2013
Description
It is the eve of 1941 and World War II is engulfing the globe. Newlywed Nerys Watkins leaves rural Britain to accompany her husband on a missionary posting to India, but when he leaves her in the exotic lakeside of Srinagar to take on a complicated mission elsewhere, she discovers a new world. Here, in the heart of Kashmir, the British dance, flirt, and gossip against the backdrop of war and Nerys soon becomes caught up in a dangerous liaison. By the time she is reunited with her husband, she is a very different woman. Years later, Nery's granddaughter Mair Ellis clears out her dead father's house and finds an exquisite shawl--a kaleidoscope of silvery blues and greens. Wrapped in the folds of this delicate object is a lock of a child's curly hair. With nothing else to go on, Mair decides to trace her roots back to Kashmir, embarking on a quest that will change her own life forever. In this marvelous novel by a writer whose novelsMarie-Claire called "beautifully written" and "a treat," the inimitable Rosie Thomas is at her very best. A sweeping, multigenerational tale of marriage and isolation, The Kashmir Shawl is a tribute to the power of finding love in the most magical, unexpected places. REVIEWS "Mystery, intrigue, a great love, passion, and a terrible sorrow all come together to make this a very touching and satisfying read." --Barbara Taylor Bradford, bestselling author of Letter from a Strange "A master storyteller." --Cosmopolita "Rosie Thomas has the rare and wonderful ability to create stories and characters that take you instantly into another world--one you are most reluctant to leave until you have reached the end." --Penny Vincenzi, bestselling author of No Ange "Thomas writes with a sharp nib, not a dull computer key. She is neither mawkish nor squeamish, but full of fresh images." --Washington Post Book Worl "Thomas brings India to glorious life in this utterly engrossing and beautifully written epic novel, a best seller in Britain. She moves the story from past to present with ease, never allowing one story line to overwhelm another. Her characters are so interesting and realistic that readers will be reluctant to let them go. Fans of Joanna Trollope and Mary Wesley will enjoy this moving work." --Library Journal (starred review "A finely wrought story of emotional and geographical displacement . . . The atmospheric detail brings the culture and gorgeous scenery of Kashmir to vivid life while also hinting at the political and religious strife that will soon overcome the region as India gains its independence." --Kirkus Review "Thomas weaves a love mystery in her latest work heavy on rich characters and scenery . . . A] compelling scandalous tale in 1940s India, set against the dynamic backdrop of Kashmir." --Publishers Weekly "An avid traveler and thorough researcher, Thomas brings the flavors and colors of India to life with vivid detail and develops characters so real one feels a kinship. An engrossing, intelligent, and satisfying read, this publication is the American debut of a UK best-seller." --Booklis "A gorgeous treat . . . Superbly written, marvelously descriptive and especially evocative of the war years." --Choic "Rosie Thomas writes with beautiful, effortless prose, and shows a rare compassion and a real understanding of the nature of love." --The Time "Spellbinding . . . Honest and compassionate, Thomas's] books are a delight from start to finish." --Daily Express.
About the Author
Rosie Thomas is the author of numerous critically acclaimed, bestselling novels. She has won the Romantic Novel of the Year Award twice, for her novels "Iris & Ruby "and "Sunrise." Born in a small village in northern Wales, Thomas discovered a love of traveling and mountaineering when her children were grown. In the years since, she has climbed in the Alps and the Himalayas, competed in the Peking to Paris car rally, trekked in the footsteps of Shackleton on South Georgia Island, and spent time on a tiny Bulgarian research station in Antarctica. To research "The Kashmir Shawl," she traveled to Ladakh and Kashmir. Her website is www.rosiethomasauthor.com.
Advertisement