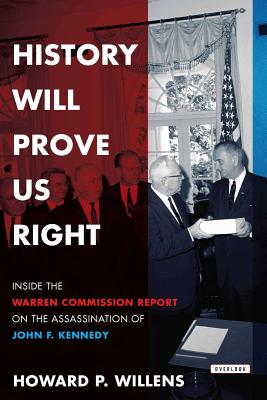 History Will Prove Us Right: Inside the Warren Commission Report on the Assassination of John F. Kennedy (Hardcover)
Inside the Warren Commission Report on the Assassination of John F. Kennedy
Overlook Press, 9781468307559, 399pp.
Publication Date: October 31, 2013
* Individual store prices may vary.
or
Not Currently Available for Direct Purchase
Description
Now, in this eye-opening new account of the Commission and its findings, Howard P. Willens sets out to prove that Warren's advice was prescient. Willens, one of the few living staff members of the Warren Commission, supervised the investigation from the very beginning and has waited until now to silence the critics and well-intentioned armchair detectives. Drawn from Willens' own journals and extensive notes on the investigation--which have never before been published-History Will Prove Us Right tells the true and complete story, perhaps for the first time, of every aspect of the investigation into one of the century's most harrowing events from a uniquely first-person perspective.
About the Author
Howard P. Willens is the only living member of the three-person supervisory staff of the Warren Commission. After the commission's report was published, he left the Department of Justice and in 1965 served as the Executive Director of the President's commission on Crime in the District of Columbia. In 1967, he returned to private law and has continued to practice and write in Washington, DC ever since.
Advertisement