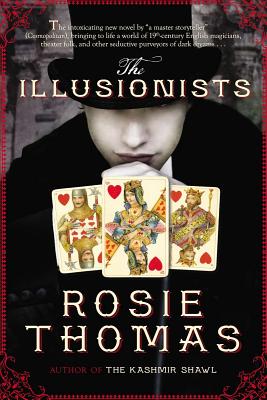 The Illusionists (Hardcover)
Overlook Press, 9781468309904, 472pp.
Publication Date: June 26, 2014
* Individual store prices may vary.
or
Not Currently Available for Direct Purchase
Description
At the start ofThe Illusionists, we meet Eliza, a young, beautiful woman of limited means. Eliza is modern before her time. Not for her the stifling if respectable conventionality of marriage, children, domestic drudgery. She longs for more. Through her work as an artist's model, she meets the magnetic and irascible Devil--a born showman whose dream is to run his own theater company. +L17Devil's right-hand man is the improbably-named Carlo Bonomi, an ill-tempered dwarf with an enormous talent for all things magic and illusion. Carlo and Devil clash at every opportunity and it constantly falls upon Eliza to broker an uneasy peace between them. And then there is Jasper Button. Mild-mannered, and a family man at heart, it is his gift as an artist that makes him the unlikely final member of the motley crew Thrown together by a twist of fate, their lives are inextricably linked: the fortune of one depends on the fortune of the other. And as Eliza gets sucked into the seductive and dangerous world her strange companions inhabit, she risks not only her heart, but also her life, which is soon thrown into peril.
About the Author
Rosie Thomas is the author of numerous celebrated novels, and has twicewon the Romantic Novel of the Year Award. Born in a small village in the United Kingdom, Thomas discovered a love of traveling and mountaineering when her children were grown.In the years since, she has climbed in the Alps and the Himalayas, competed in the Pekingto Paris car rally, and trekked in the footsteps of Shackleton on South Georgia Island."
Advertisement