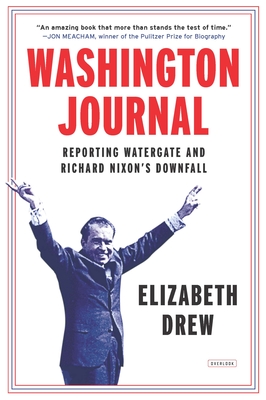 Washington Journal (Paperback)
Reporting Watergate and Richard Nixon's Downfall
Overlook Press, 9781468309997, 464pp.
Publication Date: July 21, 2015
* Individual store prices may vary.
Description
Originally published soon after Richard Nixon's resignation, Elizabeth Drew'sWashington Journal is a landmark work of political journalism. Keenly observed and hugely insightful, Washington Journal opens in 1973 and follows the deterioration of Richard Nixon's presidency in real time. With her unprecedented access to the top figures, Drew's on-the-scene reporting is even more remarkable in hindsight, asWashington Journal does what no other book about that period has done or could do: captures the feeling of the period and reports in real time conversations with the key decision-makers as they made up their minds about the most fateful vote they would cast. It also shows us the sense of fear among both close observers and the citizenry, as well as their nervous laughter at the era's absurdities. Elizabeth Drew understands Richard Nixon as well as this most complex figure can be understood, and she shows how he brought himself down. In Washington Journal, Drew takes us along on what she calls "a wild ride through history." This new edition ofWashington Journal includes an important new afterword, which reveals the fascinating--and frequently hilarious--story of Nixon's efforts to regain respectability after he'd been forced from office, and it also offers original insights into the meaning of Watergate and Richard Nixon. Rich with new information unavailable at the time, the afterword is a major addition to a truly unique and enduring work of reportage.
About the Author
Elizabeth Drew is a regular contributor to"The New York Review of Books"and the former Washington correspondent of"The New Yorker"and"The Atlantic." She is the author of fourteen books, including "The Corruption of American Politics," also available from The Overlook Press."