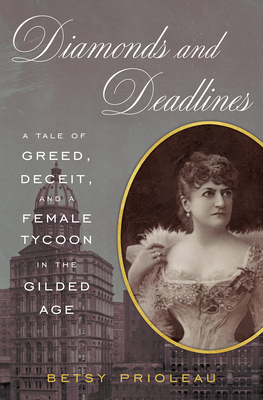 Diamonds and Deadlines
A Tale of Greed, Deceit, and a Female Tycoon in the Gilded Age
Hardcover

* Individual store prices may vary.
Description
The first biography of the glamorous and scandalous Miriam Leslie—a titan of publishing and an unsung hero of women's suffrage—connecting Gilded Age opulence with present-day social justice
Among the fabled tycoons of the Gilded Age—Carnegie, Rockefeller, Vanderbilt—is a forgotten figure: Mrs. Frank Leslie. For 20 years she ran the country's largest publishing company, Frank Leslie Enterprises, which chronicled the postbellum United States in dozens of weeklies and monthlies. A pioneer in an all-male industry, she made a fortune and became a national celebrity in the process. But Miriam Leslie was also a byword for scandal: She flouted feminine convention, took lovers, married four times, and harbored unsavory secrets which she concealed through a skein of lies and multiple personas. Both before and after her death, glimpses of the truth emerged, including an illegitimate birth and a checkered youth. At the end, Leslie, a staunch royalist and member of the ultra-elite, willed her multimillion-dollar estate to women's suffrage, providing enough funding to guarantee the passage of the 19th Amendment.

A dazzling biography, Diamonds & Deadlines reveals the unknown, sensational life of the brilliant and brazen "Empress of Journalism" who presaged the feminist future and reflected, in bold relief, the Gilded Age, one of the most momentous, seismic, and vivid epochs in American history.
Abrams Press, 9781468314502, 368pp.
Publication Date: March 29, 2022
About the Author
Betsy Prioleau is an author, radio personality, and cultural historian. She received a PhD in American literature at Duke University, then went on to teach English and world literature at Manhattan College, where she was a tenured associate professor. She was a scholar in residence at New York University, and most recently taught cultural history at the New York University Liberal Studies Program. She is the author of Swoon: Great Seducers and Why Women Love Them and Seductress: Women Who Ravished the World and Their Lost Art of Love. Prioleau lives in New York.