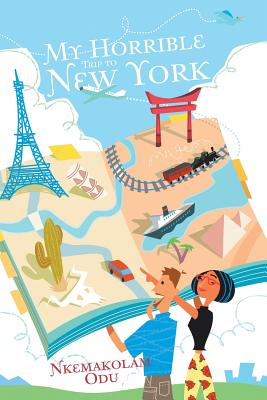 My Horrible Trip to New York (Paperback)
Authorhouse, 9781468582178, 74pp.
Publication Date: October 9, 2012
* Individual store prices may vary.
Description
This story is about an eleven-year-old girl called Samantha. One day she was bored, silent while playing a family game with her mum and brother. She then asked a question to fill in the silent gap. She asked where her dad was. Her mum replied that her dad went on a trip but never came back. Samantha intended to find her dad. On the day that Samantha decided to go, she heard her doorbell ring. It was her step family Samantha was not excited. She saw a girl (called Paige) and a boy (called Billy) and one giant adult. Paige was a bully. Later on in life, they became the best of friends. So Paige joined her plan to find Samantha's dad. Both Paige and Sam went on a plane to fly to New York. They went camping for the night. Paige was really busting to use the bathroom in the middle of the night. Paige gets taken away Sam had to find Paige first. Sam was walking in the dark woods and saw both bear and wolf chasing her. A strange man jumps out of nowhere and tackles them. The man was a caveman called Nathan and helps Sam on her journey. Sam finds Paige in a shop and runs away with her. The Dad finds them and chases them. The Dad falls down and maybe breaks his leg. They say good-bye to Nathan and go back home. As soon as they get home, Mum says she has good news. She was having a baby girl They name of the baby as Zoe.