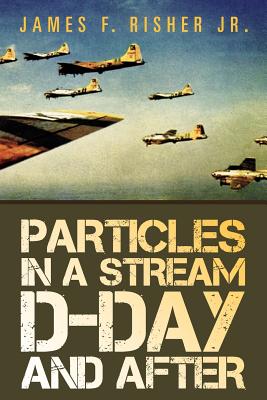 Particles in a Stream D-Day and After
Paperback

* Individual store prices may vary.
Other Editions of This Title:
Hardcover (2/14/2012)
Description
New Book Takes a Personal Look at War and Interconnected Lives
Memoir reveals an intimate glimpse of the impact of WWII and aerial warfare
MCDONOUGH, Ga. - (Release Date TBD) - Within the colossal stage of the Second War, millions of human destinies were inexplicably intertwined and eventually led to the ultimate triumph of good over evil. Author James F. Risher, Jr. gives an inside glimpse of warfare through his book, Particles In A Stream D-Day And After, published posthumously by his sons, James F. Risher III and Joseph K. Risher. This significant and fast moving personal account reveals Risher's experiences in the United States Strategic bombing campaign as a member of the Eight U.S. Army Air Force in the European theatre of World War II.
This book is more than a combat history--it is a story of impressions and feelings about the stresses upon human beings associated with this form of combat, as they become part of a cohesive aerial combat crew. It tells how men depended on each other to survive combat missions. It reveals the response of individuals to the growing, repeated stress of aerial warfare in a high altitude (4 to 6 miles), sub-zero frigid environment; perform precise technical tasks in confined, unheated spaces, with life maintained by an oxygen tube. Interwoven with feelings of creeping anticipation, dread, panic, and often boredom of high altitude warfare, Particles In A Stream D-Day And After also presents the humorous side of combat flying and everyday life on the bomber bases in England. The men often relied on humor as the tonic for stress and fatigue. The "particles in a stream" in the title refers to WWII as the war of "small teams"--men of other military branches who no doubt felt the same way the longer they fought together.
Xlibris, 9781469137841, 238pp.
Publication Date: February 14, 2012