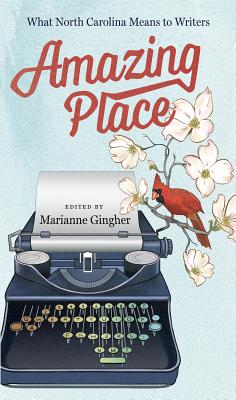 Amazing Place
What North Carolina Means to Writers
Paperback

* Individual store prices may vary.
Description
Some of us understand place in terms of family and community, landscape, or even the weather. For others, the idea of place becomes more distinct and particular: the sound of someone humming while washing dishes, the musical cadence of a mountain accent, the smell of a tobacco field under the hot Piedmont sun. Some of North Carolina's finest writers ruminate on the meaning of place in this collection of twenty-one original essays, untangling North Carolina's influence on their work, exploring how the idea of place resonates with North Carolinians, and illuminating why the state itself plays such a significant role in its own literature.

Authors from every region of North Carolina are represented, from the Appalachians and the Piedmont to the Outer Banks and places in between. Amazing Place showcases a mix of familiar favorites and newer voices, expressing in their own words how North Carolina shapes the literature of its people.

Contributors include Rosecrans Baldwin, Will Blythe, Belle Boggs, Fred Chappell, Jan DeBlieu, Pamela Duncan, Clyde Edgerton, Ben Fountain, Marianne Gingher, Judy Goldman, Stephanie Elizondo Griest, Randall Kenan, Jill McCorkle, Michael McFee, Lydia Millet, Robert Morgan, Jenny Offill, Michael Parker, Bland Simpson, Lee Smith, Wells Tower, and Monique Truong.
University of North Carolina Press, 9781469622392, 224pp.
Publication Date: March 23, 2015