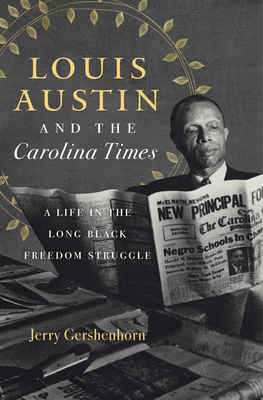 Louis Austin and the Carolina Times (Hardcover)
A Life in the Long Black Freedom Struggle
University of North Carolina Press, 9781469638768, 360pp.
Publication Date: February 26, 2018
Other Editions of This Title:
Paperback (8/1/2020)
* Individual store prices may vary.
Description
Louis Austin (1898-1971) came of age at the nadir of the Jim Crow era and became a transformative leader of the long black freedom struggle in North Carolina. From 1927 to 1971, he published and edited the Carolina Times, the preeminent black newspaper in the state. He used the power of the press to voice the anger of black Carolinians, and to turn that anger into action in a forty-year crusade for freedom.

In this biography, Jerry Gershenhorn chronicles Austin's career as a journalist and activist, highlighting his work during the Great Depression, World War II, and the postwar civil rights movement. Austin helped pioneer radical tactics during the Depression, including antisegregation lawsuits, boycotts of segregated movie theaters and white-owned stores that refused to hire black workers, and African American voting rights campaigns based on political participation in the Democratic Party. In examining Austin's life, Gershenhorn narrates the story of the long black freedom struggle in North Carolina from a new vantage point, shedding new light on the vitality of black protest and the black press in the twentieth century.