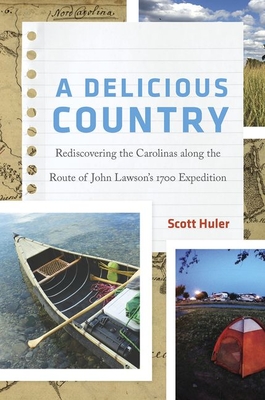 A Delicious Country
Rediscovering the Carolinas Along the Route of John Lawson's 1700 Expedition
Hardcover

* Individual store prices may vary.
Description
In 1700, a young man named John Lawson left London and landed in Charleston, South Carolina, hoping to make a name for himself. For reasons unknown, he soon undertook a two-month journey through the still-mysterious Carolina backcountry. His travels yielded A New Voyage to Carolina in 1709, one of the most significant early American travel narratives, rich with observations about the region's environment and Indigenous people. Lawson later helped found North Carolina's first two cities, Bath and New Bern; became the colonial surveyor general; contributed specimens to what is now the British Museum; and was killed as the first casualty of the Tuscarora War. Yet despite his great contributions and remarkable history, Lawson is little remembered, even in the Carolinas he documented.

In 2014, Scott Huler made a surprising decision: to leave home and family for his own journey by foot and canoe, faithfully retracing Lawson's route through the Carolinas. This is the chronicle of that unlikely voyage, revealing what it's like to rediscover your own home. Combining a traveler's curiosity, a naturalist's keen observation, and a writer's wit, Huler draws our attention to people and places we might pass regularly but never really see. What he finds are surprising parallels between Lawson's time and our own, with the locals and their world poised along a knife-edge of change between a past they can't forget and a future they can't quite envision.
University of North Carolina Press, 9781469648286, 264pp.
Publication Date: March 4, 2019