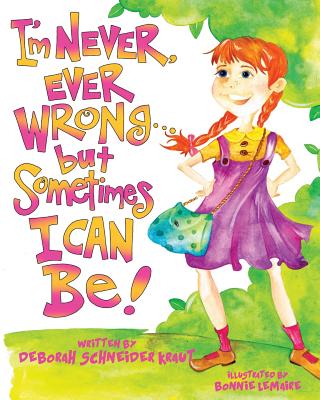 I'm Never, Ever Wrong... But Sometimes I Can Be! (Paperback)
Createspace Independent Publishing Platform, 9781469931128, 72pp.
Publication Date: July 19, 2012
About the Author
Deborah Schneider Kraut is a Professor of Communication Studies at Santa Monica College where she teaches courses in interpersonal communication, oral interpretation of multi-cultural literature, and public speaking. She also taught at the City College of New York, CUNY, where she earned a BA in Speech Therapy and an MA in Speech at The City College's School of Education. "I'm Never, Ever Wrong . . . but Sometimes I Can Be!" is the first in a series of picture books designed to teach young children valuable life lessons. They include learning from mistakes, sharing and compromise, and communicating one's needs with confidence. As the parent and child read these humorous tales together, Deborah hopes that children will gain important skills in interpersonal communication. Deborah lives in the Los Angeles area with her husband. She can be contacted at: deborahkraut@gmail.com.
Advertisement