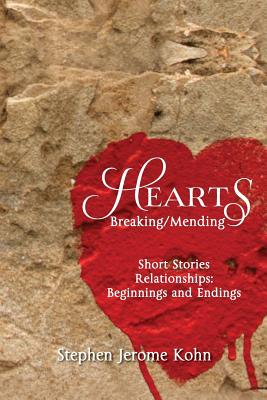 Hearts (Paperback)
Breaking/Mending: Short Stories Relationships: Beginnings and Endings
Createspace Independent Publishing Platform, 9781469995687, 168pp.
Publication Date: August 26, 2013
* Individual store prices may vary.
Description
A book of short stories focused on relationships, short and long, platonic and romantic. Stephen Jerome Kohn is a polymath consumer of life. He's been around the block and has synthesized his astute commentary into a series of pithy observations that will leave you laughing and crying. His primary focus in Hearts: Breaking/Mending is the beginning and ending of relationships. He knows that while they begin with the best of intentions (short or long-term), the endings are tragic for someone, almost always. Some stories are comical, others end with a vacuum that can only be filled with courage and a willingness to risk all again. "All" because in a genuine relationship, all needs to be shared and the deficit when this fails can be catastrophic. Lacking the requisite skills, he has earned a private pilot's license and a scuba diving card, and he has run a marathon. Why? So he can say he has succeeded in something where he lacked all necessary talent but he is now self-licensed to write. Kohn was born in New York and moved to Israel, at 52, in 1991. With one exception, his stories are based on his life in the US. He has been an economist, corporate executive, business consultant and bank regulator and has taught business writing and public speaking. While he has penned many business publications, he began fantasizing about people early in life and learned that his fantasies while commuting by subway to his high school or flying close to two million miles did not need any relation to the reality of the subjects under observation. All the better, given the early morning subway riders and drunken passengers he encountered on flights. He started writing short stories during a boring business meeting, when his counterpart's interesting visage was more impressive than the business under discussion. For him, the short story is quick, incisive and decisive. An eye-catching sketch rather than a majestic painting. Photography is his other creative hobby, where he enjoys taking photos of small parts of objects (a gear in a coffee plantation, the ceiling of a museum or the detail of a dress). He believes that a short story about a relationship is the same. It can take a small aspect of paired lives and try to create a greater understanding of the beauty of finding a mate for life, and sometimes, sadly, the viciousness of failing love. His next book, Sinners/Saints. will be published in six months.