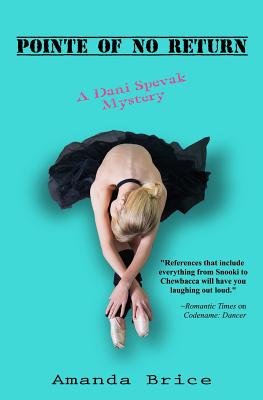 Pointe of No Return
A Dani Spevak Mystery
Paperback

* Individual store prices may vary.
Description
It's the most wonderful time of the year... Aspiring ballerina Dani Spevak's visions of sugar plums are dashed when she's assigned to understudy her nemesis, Hadley Taylor, in The Nutcracker. Pretty, popular, and rich, that girl has all the luck. Or so she thought. When Hadley mysteriously disappears with opening night just around the corner, Dani can't sit idly by, even if it means losing the part. Now she's running all over Phoenix in a race against the clock. From reality TV trophy wives to sleazy real estate developers to a possible drug ring, the cast of suspects begins to add up. Will she find Hadley before the curtain rises? Book 2 in the Dani Spevak Mystery Series Praise for Amanda Brice and the Dani Spevak Mystery Series: "From the authentic atmosphere of a ballet boarding school to the recognizable humor and angst of teenage girls, POINTE OF NO RETURN hits all the right notes and kept me turning the pages." - Former professional ballerina Miriam Landis-Wenger, author of BREAKING POINTE and GIRL IN MOTION "References that include everything from Snooki to Chewbacca will have you laughing out loud." - Romantic Times on CODENAME: DANCER "A perfect example of YA done right." - I'd So Rather Be Reading on CODENAME: DANCER "It's Nancy Drew meets Dancing with the Stars What could be better?" - Broadway actress/dancer Cara Cooper on CODENAME: DANCER "Fans of Pretty Little Liars and Ally Carter's Gallagher Girls will love CODENAME: DANCER." - NY Times bestselling author Gemma Halliday "Even if you don't know a thing about dance, you'll be easily drawn into this quick-paced series with authentic characters and big stakes." - Rhonda Stapleton, author of STRUCK "CODENAME: DANCER is a mystery-filled romance that will twirl its way into your heart." - Melissa Francis, author of BITE ME and LOVE SUCKS "An excellent read with crisp writing and a compelling story." - Juli Alexander, author of MY LIFE AS THE UGLY STEPSISTER on CODENAME: DANCER "Dani is such a vibrant character that she leaps right off the pages and into your heart." - Cynthia Justlin, author of HER OWN BEST ENEMY.
Createspace Independent Publishing Platform, 9781470013301, 148pp.
Publication Date: June 11, 2012