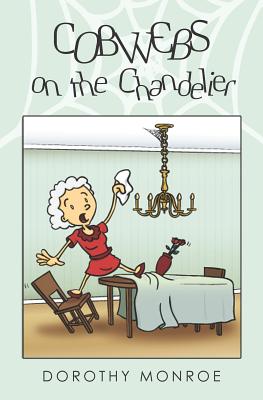 Cobwebs on the Chandelier (Paperback)
Createspace Independent Publishing Platform, 9781470025311, 182pp.
Publication Date: July 19, 2012
* Individual store prices may vary.
Description
Whether offering up the lighter side of an emergency room trip or taking a few jolly jabs at the task of sewing, humorist Dorothy Monroe is just the antidote for all of us who are familiar with life's many little catastrophes. Cobwebs on the Chandelier serves up a collection of 37 essays that span a fifty-year marriage, each finding the frequently hidden laugh in dealing with mute teenagers, escalating home repair bills, never-ending science fairs, and more than one fender bender. Was it getting married on April Fools' Day that set the tone for a family life infused with plenty of mishaps and just as much mirth? With droll wit and warm heart, this canny, clear-eyed writer pens and sends up, a life endured, survived-and, above all, enjoyed. Cobwebs on the Chandelier will delight readers with its wry recollections of an action-packed family life with four kids, a procession of pets, and a series of misadventures that are likely to plague anyone charged with juggling roles as household mechanic, resident psychologist, weather forecaster, construction foreman, dispute resolution mediator, and more. A family train trip turns into a sick bed on wheels. A last minute attempt to clean a chandelier for a dinner party puts the hostess under the table before the party begins. A preachy attitude toward a teenaged son's driving comes crashing down on the writer's own driving confidence. As Monroe relives decades of household hijinks, battles with the elements, and more, her comic relief comes to the rescue for her husband, her four children, and her. There is no situation that Monroe can't get a rise out of. Throughout, this modern-day Erma Bombeck shares a host of revelations that always ring true, while they frequently coax an irrepressible grin. For example, a bird on the wing is worth two in the cage, and the time it takes to assemble a do-it-yourself project can be divined by the size of the instruction page. Engaging, uplifting, and teeming with good fun, essays, covering a fifty-year-span, not only depict the funny side of life, they also affirm the essential goodness of marriage and family. All in all, Cobwebs on the Chandelier offers side-splitting proof that anything that does not kill you, just might make you chuckle. It's certain to resonate and tickle anyone who has slogged through a pile of laundry or two, yet still adores her family.
About the Author
Dorothy Monroe's essays on childcare, healthcare, and family life have appeared in numerous publications, including The Kansas City Times and Northwest Prime Time. In addition, she enjoyed a career in healthcare until her retirement in 2007. Her blog, Healthcare Second Opinion, contributes to the current discussion on healthcare issues. Monroe's awards as a writer include her selection as a finalist in the Pacific Northwest Writers Association contest in 2004; first place for fiction in Write on the Sound contest in 2002; and second place for poetry in the Write on the Sound contests in 2007 and 2008. An honors graduate of Oberlin College, with graduate studies in social work at the University of Michigan and the University of Nebraska, Monroe received an MBA from Rockhurst College, Kansas City. She is married to James Monroe, and together they have four children and two grandchildren.