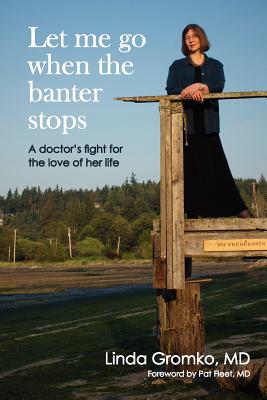 Let Me Go When the Banter Stops: A Doctor's Fight for the Love of Her Life (Paperback)
A Doctor's Fight for the Love of Her Life
Createspace Independent Publishing Platform, 9781470118181, 506pp.
Publication Date: May 6, 2012
Description
Let Me Go When the Banter Stops tells the true love story of Seattle physician, Dr. Linda Gromko, who finds herself in a midlife romance, only to discover that her future holds joyful new beginnings, but also the pain and heartache of letting go. Dovetailing with her earlier memoir, Complications: A Doctor's Love Story, Dr. Gromko's new book revisits the early days and challenges of her burgeoning relationship with her future husband, Steve Williams, a self-made business executive and consummate networker living comfortably with his feisty nine-year-old daughter, Brita. As Complications chronicled, their obstacles included a whirlwind of family dynamics, the relative remoteness of Bainbridge Island to Seattle, and, most significantly, Steve's failing health due to adult onset diabetes, high blood pressure, and the attendant reality of end stage kidney failure. The ensuing story-painful at times, but always heartfelt and grounded in humor-takes unimaginable turns of good fortune, beleaguered frustration, and resilient perseverance, revealing the contemporary medical profession at its best and worst. Written from both a doctor's professional perspective and a caregiver's personal point of view, Let Me Go When the Banter Stops presents a firsthand testament to overcoming adversity and meeting new challenges. In the tumultuous course of Steve's medical issues and the family's personal trials, they face kidney dialysis and organ transplant, cardiac complications and setbacks, and surgery after surgery. As the story unfolds, Steve's treatment ultimately takes Linda back to the same university medical center where she trained as a nurse and as a physician, teaching her more than she ever thought she would need to know about kidney disease and its management. She also gains insight into the different "types" of health care providers - providing her a greater understanding of her own struggles with the health care system. Throughout its pages, Let Me Go When the Banter Stops remains at its heart the story of a scrappy little family making its way through medical uncertainties and life's unforeseen turns. This poignant memoir plumbs the depths of sadness and grief, yet ultimately resonates triumphant, as Dr. Gromko and her new daughter Brita discover a shared courage to prevail after a devastating loss. Let Me Go When the Banter Stops is a powerful story of the unthinkable realities of disease and the unfathomable capacity of human endurance, bearing witness to the sustaining lessons that love reveals in the most unexpected of ways.
About the Author
Linda Gromko, MD is a board-certified family physician and the founder of Seattle's Queen Anne Medical Associates, PLLC. Her experience in health care dates back to her experience as a fourteen-year-old volunteer candy striper at Virginia Mason Hospital. A bachelor's and master's graduate of the University of Washington School of Nursing, Dr. Gromko worked as a Nurse Practitioner and Nurse Educator at Planned Parenthood of Seattle/King County before entering the University Of Washington School of Medicine as the mother of a four-year-old son. Graduating in 1984 and completing her family practice residency at UW in 1987, Dr. Gromko worked in women's clinics and as an ER physician before founding her own practice. Now over two decades old, the practice employs two first-rate nurse practitioners who, with Dr. Gromko, serve a wide range of individuals, including Seattle's transgendered community. The practice also offers Queen Anne Medical Weight Loss - a program aimed at preventing the very health issues that eventually took her husband and diminished his quality of life. Dr. Gromko has also written Complications: A Doctor's Love Story, and co-authored Arranging Your Life When Dialysis Comes Home with Jane C. McClure. Following the death of her husband, Steve Williams, in April 2011, Dr. Gromko poured herself into her practice, her rowing, and her writing. Read more at www.LindaGromkoMD.com.
Advertisement