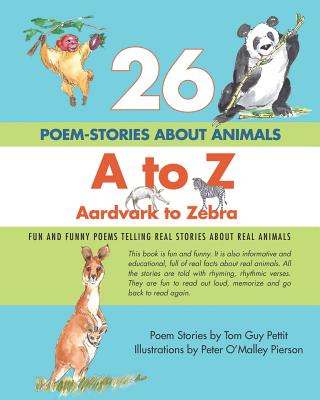 26 Poem-Stories about Animals, A to Z, Aardvark to Zebra: Fun and Funny Poems Telling Real Stories about Real Animals (Paperback)
Fun and Funny Poems Telling Real Stories about Real Animals
Createspace Independent Publishing Platform, 9781470136376, 62pp.
Publication Date: July 6, 2012
About the Author
Tom Pettit, the author, is a retired marketing executive who loves to tell stories with poetry. His previous work is about the drama of war, stories of combat from World War II and the Civil War. So the fun of writing "26 Poem Stories" about animals was a heartwarming and refreshing new experience. Tom lives in Palm Springs, California. Peter O'Malley Pierson, PhD, the illustrator, is retired from Santa Clara University where he was a Distinguished Professor of History. Cartooning and watercolor painting are just two of his many hobbies. He travels the world to lecture on history, modern to medieval. He lives in San Francisco, California.
Advertisement