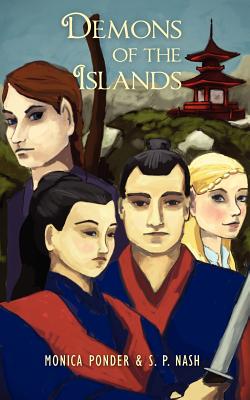 Demons of the Islands (Paperback)
Createspace Independent Publishing Platform, 9781470186425, 334pp.
Publication Date: June 27, 2012
About the Author
Monica Ponder's avocation is Nursing. Having made the difficult transition from bedside care to administration, she has provided a number of clinically related articles and educational pieces for use by her place of employment. Monica's vocation (and method of retaining her sanity) is creative writing. Her genre of choice is fantasy but she has dabbled with poetry, song lyric writing and other types of fiction all of which have (mercifully) remained unpublished. Monica is a voracious reader, a sometime participant in Medieval Reenactment, a passionate fan of Filk (a form of folk music which primarily uses science fiction or fantasy subjects and parody as its major themes) Music and an ardent pursuer of anything offbeat and nonconformist. She lives in Montgomery, Illinois with her two dogs and an eclectic assortment of better than ordinary neighbors. S.P. Nash is a person who values anonymity highly; so highly in fact that many people, including some of his co-workers wonder sometimes if he truly exists as a person or if he is in reality a pooka in human form. Like many authors Mr. Nash resisted the urge to write anything other than the most essential life-related notes for many years. He started giving in to the temptation to write creatively when he reluctantly consented to act as the "detail man" for the first of the Cel'mystry Chronicles. It took several years for the transformation to be complete, but the urge to be creative finally eroded his sensibility to the extent that he has agreed to "come forward" and let the magnitude of his contributions to these books be revealed. Mr. Nash is a voracious reader, a passionate fan of Filk Music, a sometime Medieval Reenactor, a martial artist, metal smith and jewelry maker by past history, a full time collector of eclectic ideas and unusual concepts, and a highly intelligent man with an engineer's mindset and an attention to detail that borders on being obsessive. Mr. Nash lives in a section of Aurora, Illinois where his presence will attract the least amount of attention.
Advertisement