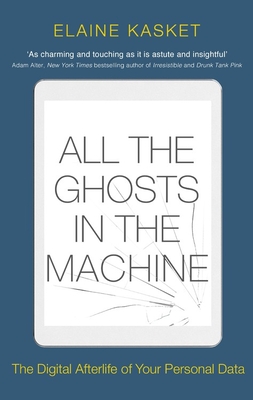 All the Ghosts in the Machine
The Digital Afterlife of your Personal Data
Paperback

* Individual store prices may vary.
Description
'As charming and touching as it is astute and insightful'
Adam Alter, New York Times bestselling author of Irresistible and Drunk Tank Pink
'This a very useful book, even perhaps for people who have never been near a computer in their lives'
Jake Kerridge, Sunday Telegraph

Seen any ghosts on your smartphone lately?
As we're compelled to capture, store and share more and more of our personal information, there's something we often forget. All that data doesn't just disappear when our physical bodies shuffle off this mortal coil. If the concept of remaining socially active after you're no longer breathing sounds crazy, you might want to get used to the idea. Digital afterlives are a natural consequence of the information age, a reality that barely anyone has prepared for - and that 'anyone' probably includes you.
In All the Ghosts in the Machine, psychologist Elaine Kasket sounds a clarion call to everyone who's never thought about death in the digital age. When someone's hyperconnected, hyperpersonal digital footprint is transformed into their lasting legacy, she asks, who is helped, who is hurt, and who's in charge? And why is now such a critical moment to take our heads out of the sand?
Weaving together personal, moving true stories and scientific research, All the Ghosts in the Machine takes you on a fascinating tour through the valley of the shadow of digital death. In the process, it will transform how you think about your life and your legacy, in a time when our technologies are tantalising us with fantasies of immortality.
Praise For All the Ghosts in the Machine: The Digital Afterlife of your Personal Data…
'A thorough and much-needed interrogation of an issue which, quite literally, faces us all. Elaine Kasket explores the myriad consequences of dealing with the reams of personal data we leave behind online when we die. Through heart-rending family stories and expert testimony, All the Ghosts in the Machine reveals how the Wild West of the social media industry is grappling with (and in some cases actively exploiting) human mortality' - Geoff White, investigative journalist

'Elaine Kasket offers a compelling deep dive into the complexities of the digital age and what happens to a person's online life after their death - the impact which can often be devastating for bereaved families. All the Ghosts in the Machine makes you stop and think about how you would want your online assets to be managed after you die and what steps you might need to take to do so' - Sue Morris, Director of Bereavement Services, Dana-Farber Cancer Institute, Boston, USA

'Engagingly written and thoroughly researched, there is no better guide to how social media re-shape our experience of death and loss. Digital natives and digital immigrants alike will love this book' - Tony Walter, Professor at the Centre for Death and Society, University of Bath, UK

'I came to this book from the world of palliative care. I was interested in digital legacies of how people and their families choose to be remembered - and what that might mean for the people we support. It was a professional interest that intersected with a personal one. What I've taken from All the Ghosts in the Machine though is so much more. It's made me think about how I live my life now, the choices that I make for myself and for others - including others that haven't even been conceived yet... Elaine's storytelling style introduces complex topics while at the same time creating investment in people's lives, adding context to a situation to allow you to really understand the ideas she's exploring. It's thought provoking, engaging and touching... Above all though, it's reinforced my professional views. That everything we do during dying, death and bereavement needs to be personal. What suits one person or family won't suit another. As the number of memorialised profiles on sites like Facebook start to outweigh the living ones, as is a very real future scenario, we need to ensure people are aware of their choices around both privacy and legacy. A policy, a process or even a law won't necessarily fix that. Perhaps though, talking about it, communicating, having a conversation with loved ones about what you'd want, and advance planning, might' - Susan Brown, Policy & Public Affairs Manager, Marie Curie Scotland

'I read this book with the sinking realisation that my favourite response to a problem - "worry about it later" - is not really an option . . . Dr Kasket, who writes with a pleasingly self-deprecating wit and a determination to give every side of an argument a fair hearing, is as comfortable exploring the philosophical implications of digital legacies as she is on the legal and scientific nitty-gritty . . . this a very useful book, even perhaps for people who have never been near a computer in their lives. It may encourage you to think about how you can create an analogue version of a Facebook profile - a book of memories, perhaps - in case you are run over on your way to the Post Office. Curating the way you will live on in your loved ones' memories is always "digital" in one sense at least - it cocks a defiant middle finger at Death' - Jake Kerridge, Sunday Telegraph

'Informative and very readable' - Omar Sattaur,EMDR Therapy Quarterly

'Moving first-hand interviews and unnervingly honest recollections weave through psychologist Elaine Kasket's first mainstream book, All the Ghosts in the Machine, an anatomy of mourning in the digital age' - Simon Ings, New Scientist

'The constant use of technology - particularly digital and social media - has drastically changed the options that are available to document a person's life, mourn someone's death and preserve one's "digital legacy". Through the sharing of personal experiences and interviews with individuals dealing with life-limiting illness and grief, visionaries who have created mechanisms to achieve digital immortality and scholars who have studied these new phenomena, Elaine Kasket has written a thought-provoking book that will help digital immigrants and digital natives alike to contemplate the psychosocial, legal, ethical and practical implications of being mortal in the digital age. In addition to expanding their vocabulary (e.g., learning about "boundary turbulence") and gaining information about user policies that dictate access to their digital assets after their death, readers will benefit from Kasket's ten general principles to guide their decision-making about going "old school" and/or "digital" in the quest for immortality' - Carla Sofka, co-editor of Dying, Death, and Grief in an Online Universe

'The gentle, subtle cover of this book belies the power within. This is a beautifully written engaging text that brims with stories. Whilst Elaine's own tales are self-deprecating, they are also funny and illustrate how confused our world is about immortality. The book bridges research material and popular culture in a way that is accessible, amusing and challenging, all in one go. The chapters span moving stories of online grief, ethical and legal concerns as well as highlighting the impact of social media on death and mourning. Amidst the serious issues are touching storied moments. The book ends with useful practical suggestions about how to confront the realities of your own digital dust. It may not always be a comfortable read but it is certainly a good one. Buy it' - Maggi Savin-Baden, Professor of Education, University of Worcester, UK

'The gripping style makes it a pleasure to read, but its core message - that your digital legacy is not something that you should be taking lightly - is unsettling ... All the Ghosts in the Machine is insightful, touching and, at points, incredibly sad - and it leaves you wondering exactly what aspects of yourself you want to leave for the world to pick over you when you're gone' - Parent Zone

'The writing is top-notch, and although written for non-specialists, it is never dumbed down and firmly speaks the language of psychology. For book lovers of psychology or popular science, this style of writing will be a familiar mix of personal anecdote and empiricism, with academic citations only when needed. This sense of balance in writing is rare and hard to achieve but was flawless. Kasket writes from her perspective, using a witty and engaging style and draws on her own family experiences and career as a Counselling Psychologist in the UK. It is impossible to read the book and not be concerned about what your digital legacy might be. The book does not politely ask permission to consider these issues; it demands the reader's attention to the future consequences of one's posthumous digital legacy' - Simon Bignell, The Psychologist

'All the Ghosts in the Machine is as charming and touching as it is astute and insightful. Kasket observes that, until recently, fame was the only way to guarantee that your identity would outlast your lifespan; today, however, billions of lives are preserved as digital remnants after death. Kasket explores how this mass preservation of life shapes our collective well-being, and whether we should attempt to control the data that capture our digital lives' - Adam Alter, New York Times bestselling author of Irresistible and Drunk Tank Pink, Professor of Marketing and Psychology at New York University's Stern School of Business, USA
Robinson, 9781472141903, 304pp.
Publication Date: May 26, 2020
About the Author
Elaine Kasket, Psy.D., is a Counselling Psychologist, speaker and writer who has studied the juxtaposition of death and the digital since 2006. She has contributed to multiple stories on this topic in TV, radio, print and online media, to include pieces for the BBC, Radio 4, Channel 4 News, the Canadian Broadcasting Company, and Psychology Today. All the Ghosts in the Machine is her first book for general audiences, following a decade of more academic writing on the subject. Originally from the U.S., Elaine now lives with her family in London, where she produces the Mortified stage show, acts as the Bereavement Lead for the Digital Legacy Association, and maintains a busy psychotherapy practice.