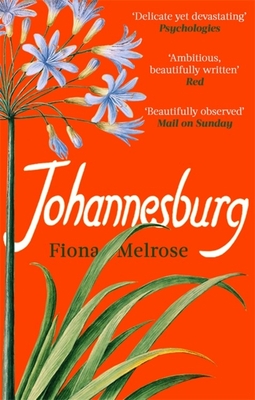 Johannesburg (Paperback)
Corsair, 9781472152862, 272pp.
Publication Date: January 7, 2020
* Individual store prices may vary.
Description
6 December 2013.

It is a searing hot day in Johannesburg. Gin has returned to the city of her birth to throw a party for her mother's eightieth birthday. She is determined, with lists and meals and flower arrangements, to show that she has become a fully capable woman. She knows, deep down, her mother will only ever see a lost cause.

Meanwhile outside, crowds of citizens and the world's media have gathered to hear the expected announcement: Nelson Mandela has died.

Set across the course of a single momentous day and narrated by a chorus of voices, Fiona Melrose's second novel is a hymn to an extraordinary city and its people, an ambitious homage to Virginia Woolf's Mrs Dalloway, and a devastating personal and political manifesto on mothers and daughters, justice and love.

'Beautifully observed' Mail on Sunday

'Woolf produced blooms that are impossible to emulate. Johannesburg provides evidence of a novelist who can grow inimitable flowers herself' Spectator
About the Author
Fiona Melrose was born in Johannesburg but has spent the majority of her adult life in the UK, first in London and then in East Anglia. Previously Fiona has worked in academia, NGO's, public affairs and as an emerging markets analyst. She continues to keep a foot in both continents and is currently spending the majority of her time back in South Africa.
Praise For Johannesburg…
An ambitious, beautifully written novel that seems to sing.—Sarra Manning, Red

An assured homage to Virginia Woolf's Mrs Dalloway... No mean feat, it's also an insightful portrait of a city and country grappling with demons past and present.—Emerald Street

Beautifully observed . . . Together, these varied voices bear witness to the experience of living in a complicated city.—Mail on Sunday

Delicate yet devastating . . . Melrose beautifully captures the simmering, shimmering city and the vivid characters that walk its tense streets. —Psychologies Magazine

With Johannesburg, Melrose enters a widely travelled literary territory and makes it her own. It is a fine novel and Melrose is fast on her way to establishing herself as one of the most fascinating, versatile novelists of our time and place.—Cape Times

The pages fly by. Clearly written from the heart, in it we can find much of our own lives, regardless of the setting. Melrose paints the city beautifully, full of grace, colour and even fear.—Belfast Telegraph

Woolf produced blooms that are impossible to emulate. Johannesburg provides evidence of a novelist who can grow inimitable flowers herself.—Spectator

[Fiona Melrose] pulls off a stream-of-consciousness success, following a single day in the South African capital through the eyes of everyone from an expat artist to a homeless hunchback. Kudos.—Sunday Telegraph

Melrose can undoubtedly write . . . what emerges is her original depiction of modern Johannesburg - a beautiful, violent, unforgiving place that is a social reality and a state of mind.—Daily Mail