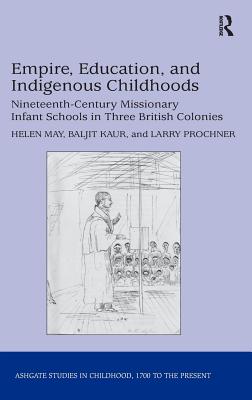 Empire, Education, and Indigenous Childhoods
Nineteenth-Century Missionary Infant Schools in Three British Colonies (Studies in Childhood)
Hardcover

* Individual store prices may vary.
Other Editions of This Title:
Paperback (10/19/2016)
Description
Taking up a little-known story of education, schooling, and missionary endeavor, Helen May, Baljit Kaur, and Larry Prochner focus on the experiences of very young 'native' children in three British colonies. In missionary settlements across the northern part of the North Island of New Zealand, Upper Canada, and British-controlled India, experimental British ventures for placing young children of the poor in infant schools were simultaneously transported to and adopted for all three colonies. From the 1820s to the 1850s, this transplantation of Britain's infant schools to its distant colonies was deemed a radical and enlightened tool that was meant to hasten the conversion of 'heathen' peoples by missionaries to Christianity and to European modes of civilization. The intertwined legacies of European exploration, enlightenment ideals, education, and empire building, the authors argue, provided a springboard for British colonial and missionary activity across the globe during the nineteenth century. Informed by archival research and focused on the shared as well as unique aspects of the infant schools' colonial experience, Empire, Education, and Indigenous Childhoods illuminates both the pervasiveness of missionary education and the diverse contexts in which its attendant ideals were applied.
Routledge, 9781472409607, 300pp.
Publication Date: April 14, 2014
About the Author
Helen May is Professor of Education at the University of Otago College of Education, Dunedin, New Zealand; Baljit Kaur is an independent scholar based in Ottawa, Canada; and Larry Prochner is Professor of Elementary Education at the University of Alberta, Canada.