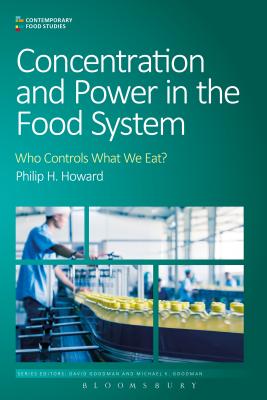 Concentration and Power in the Food System (Paperback)
Who Controls What We Eat? (Contemporary Food Studies: Economy)
Bloomsbury Academic, 9781472581112, 216pp.
Publication Date: February 25, 2016
Other Editions of This Title:
Hardcover (2/25/2016)
* Individual store prices may vary.
Description
Nearly every day brings news of another merger or acquisition involving the companies that control our food supply. Just how concentrated has this system become? At almost every key stage of the food system, four firms alone control 40% or more of the market, a level above which these companies have the power to drive up prices for consumers and reduce their rate of innovation. Researchers have identified additional problems resulting from these trends, including negative impacts on the environment, human health, and communities.
This book reveals the dominant corporations, from the supermarket to the seed industry, and the extent of their control over markets. It also analyzes the strategies these firms are using to reshape society in order to further increase their power, particularly in terms of their bearing upon the more vulnerable sections of society, such as recent immigrants, ethnic minorities and those of lower socioeconomic status. Yet this study also shows that these trends are not inevitable. Opposed by numerous efforts, from microbreweries to seed saving networks, it explores how such opposition has encouraged the most powerful firms to make small but positive changes.
About the Author
Philip H. Howard is Associate Professor of Community Sustainability at Michigan State University, USA. He has published widely in scholarly food and agriculture journals, as well as numerous outlets aimed at broader audiences, and is a member of the editorial board of the journal Agriculture and Human Values.