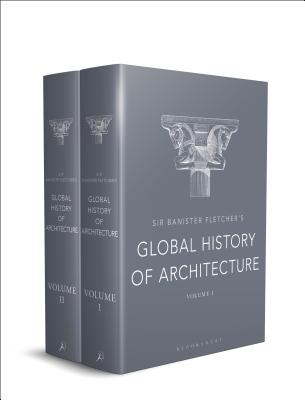 Sir Banister Fletcher's Global History of Architecture (Hardcover)
Bloomsbury Visual Arts, 9781472589989
Publication Date: December 12, 2019
* Individual store prices may vary.
Description
Sir Banister Fletcher's A History of Architecture is the acknowledged classic work of architectural history reference. Since the first edition was published in 1896, it has been declared the 'Book of the Century' by the American Institute of Architects and it has become essential reading for generations of architects and students. This tradition continues today, with the 21st edition providing the most up-to-date, authoritative and detailed account of the global history of architecture available in any form.
In this unique work, thousands of the world's major buildings are described and explained, in many cases accompanied by detailed and beautiful plans, drawings, and photographs. Architectural styles, traditions, and buildings are all placed within an easy-to-use framework, allowing comparative analysis of the cultural contexts, resources, and technological processes that have affected the development of architecture from prehistoric times to the present day.
This new 21stedition, edited by architectural critic Tom Dyckhoff, brings into focus the key topics of current critical concern, including sustainability, vernacular architecture, and cross-cultural exchanges throughout history. This complements and extends the existing coverage, which has throughout been updated to reflect the very latest scholarship in architectural history, bringing a thoroughly contemporary understanding of the world's buildings and the contexts in which they were built. Richly detailed explorations of exemplary buildings are joined by new images and drawings for which A History of Architecture is justifiably famous, and new sections examining the architecture in the 21stcentury bring the coverage right up to date, providing a valuable historical context to the work of contemporary architects such as Frank Gehry and Zaha Hadid.
This richly detailed source of information will help provide an understanding of the architecture of any period from around the world. In the words of Sir Banister Fletcher himself, this 'provides a key to the habits, thoughts and aspirations of the people, and without a knowledge of this art the history of any period lacks that human interest with which it should be invested; ... the study of Architecture opens up the enjoyment of buildings with an appreciation of their purpose, meaning and charm.'
About the Author
Murray Fraser is Professor of Architecture and Global Culture at The Bartlett School of Architecture, UCL, UK and Vice-Dean of Research for The Bartlett Faculty of the Built Environment. He has published extensively on design, architectural history and theory, urbanism, post-colonialism and cultural studies.