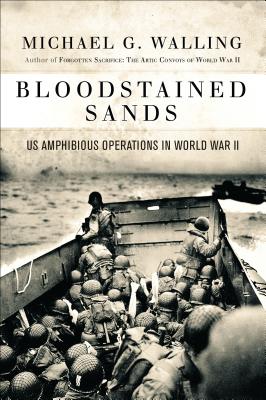 Bloodstained Sands
U.S. Amphibious Operations in World War II (General Military)
Hardcover

* Individual store prices may vary.
Description
For the men who served in America's Amphibious Forces during World War II, the conflict was an unceasing series of D-Days. They were responsible for putting men ashore in more than 200 landings throughout the conflict, most against well-entrenched enemy positions. Bloodstained Sands: US Amphibious Operations in World War II tells the story of these forgotten men for the first time, tracing their operational history from Guadalcanal to Casablanca, Sicily, Normandy, Iwo Jima, and finally Okinawa. The men's stories are told in their own voices, with fascinating accounts from Underwater Demolition Teams, Attack Transport crews, and many other unsung heroes of World War II.

First-hand interviews, entries from personal diaries, and Action Reports create a unique history, perfectly complemented by historic illustrations and detailed maps. These are timeless tales of determination, sacrifice, and triumph of the human spirit--tales of US Amphibious Forces that for too long have gone forgotten and untold.
Praise For Bloodstained Sands: U.S. Amphibious Operations in World War II (General Military)…
"Amphibious operations were one of the keys to victory in World War II. In Bloodstained Sands, Michael Walling tells the gripping stories of the valiant men who made those landings, and then fought and sacrificed to ensure that ultimate victory." - Admiral James Stavridis, USN

"An amphibious assault on a hostile shore is the most complex and dangerous operation a military force can undertake. Michael G. Walling's account of how the American armed forces learned how to do them by trial and error during World War II, culminating in the D-Day invasion of Normandy and the invasions of Iwo Jima and Okinawa, is riveting history, a story of professionalism, determination, valor and sacrifice. Bloodstained Sands should be required reading for every military officer. Some day we may have to do it again." - Stephen Coonts, author of FLIGHT OF THE INTRUDER

"Amphibious landings incorporated the greatest risks and the highest stakes of any operation in World War II. Their success depended on courage and determination at the cutting edge, in the landing craft and on the beaches. And the US was amphibious war's unquestioned master. Walling offers a distinguished contribution to the understanding of that achievement's whys and hows." - Dennis Showalter, author of INSTRUMENT OF WAR

"Mike Walling has scored another win with his moving and exciting new work, Bloodstained Sands. The award-winning author once again uses first-person accounts and personal interviews to tell the gripping story of the forgotten American heroes who stormed enemy-held beaches during World War II. Thanks to authors like Mike Walling, their stories will no longer be forgotten, but will be recorded so future generations will always remember the sacrifices these Americans made on behalf of freedom and democracy." - Robert F. Cross, author of SHEPHERDS OF THE SEA and SAILOR IN THE WHITE HOUSE

"Bloodstained Sands rises to the level of compelling narrative when it imparts the horrors faced by young men barely out of their teens who, crouched in pitching landing craft, headed toward deadly shores." - Walter R. Borneman, The Wall Street Journal
Osprey Publishing, 9781472814395, 448pp.
Publication Date: April 18, 2017
About the Author
Michael G. Walling is author of several books, including Bloodstained Sea, winner of the 2005 Samuel Eliot Morison Award for Naval Literature. Walling is a contributing author to the US Naval Institute's Naval History magazine and has appeared on The History Channel and PBS. Walling served in the US Coast Guard for six years as a commissioned officer and a senior petty officer. He has spent more than 45 years collecting stories from veterans from World War II, Korea, Viet Nam, and Iraq.
or
Not Currently Available for Direct Purchase