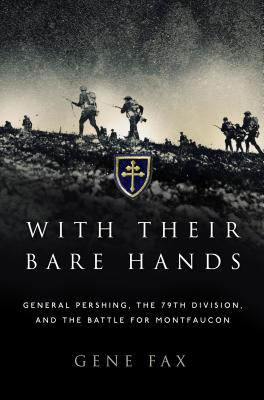 With Their Bare Hands (Hardcover)
General Pershing, the 79th Division, and the battle for Montfaucon
Osprey Publishing, 9781472819239, 496pp.
Publication Date: February 21, 2017
Other Editions of This Title:
Paperback (6/19/2018)
Compact Disc (6/19/2018)
MP3 CD (6/19/2018)
Compact Disc (5/2/2017)
MP3 CD (5/2/2017)
Compact Disc (5/2/2017)
* Individual store prices may vary.
Description
With Their Bare Hands traces the fate of the US 79th Division-men drafted off the streets of Baltimore, Washington, and Philadelphia-from their training camp in Maryland through the final years of World War I, focusing on their most famous engagement: the attack on Montfaucon, the most heavily fortified part of the German Line, during the Meuse-Argonne Offensive in 1918.
Using the 79th as a window onto the American Army as a whole, Gene Fax examines its mistakes and triumphs, the tactics of the AEF commander-in-chief General John J. Pershing, and how the lessons it learned during the Great War helped it to fight World War II. Fax makes some startling judgments, on the role of future Army Chief-of-Staff, Colonel George C. Marshall; whether the Montfaucon battle-had it followed the plan-could have shortened the war; and if Pershing was justified in ordering his troops to attack right up to the moment of the Armistice.
Drawing upon original documents, including orders, field messages, and the letters and memoirs of the soldiers themselves, some of which have never been used before, Fax tells the engrossing story of the 79th Division's bloody involvement in the final months of World War I.
About the Author
Gene Fax has written over two hundred research reports, policy papers, and proposals. An engineering graduate of MIT, he spent eight years conducting research and tactical studies in antisubmarine warfare for the U.S. Navy. He is the cofounder of The Cadmus Group, Inc., which specializes in development, evaluation, and policy research in environmental protection, energy efficiency, and sustainable development. In preparation for With Their Bare Hands, Gene spent seventeen years researching in archives across the U.S.
Praise For With Their Bare Hands: General Pershing, the 79th Division, and the battle for Montfaucon…
"With Their Bare Hands is an unvarnished examination of all corners of the battlefield, filled with failures and setbacks, courage and fear, noble sacrifices and, in many places unnecessary casualties. Mr. Fax considers the battle on its own terms and n its own time, allowing the reader an unfiltered view of combat and confusion and command decisions--both wise and unwise." - Matthew J. Davenport, The Wall Street Journal
"Superb account of the final, violent throes of World War I . . . compelling account of the hastily assembled, lightly trained American Expeditionary Forces." - Tony Perry, Los Angeles Times
"Based on meticulous research Gene Fax's fascinating account of the poorly trained 79th Division in the Meuse-Argonne offensive tells us much about how inexperience, poor communications and inadequate support compelled that division's courageous soldiers to fight 'with their bare hands.' Fax tells the amazing story of how the American Expeditionary Force and the 79th Division overcame many errors and false ideas and paid a high price learning how to fight effectively." - Brigadier General (ret.) Robert A. Doughty
"The men of the AEF's 79th Division were warriors for the working day: civilians in uniform. Their training was minimal, their cohesion limited, their tactics defying four years of Western Front experience. Yet the 79th's first assignment was to take one of the best-defended position in the Argonne Forest. It became a compound disaster. But the division's subsequent recovery is a case study in American soldiers' often-demonstrated high learning curve and the AEF's contribution to victory in 1918. Gene Fax's new history of the 79th Division is a masterful study of the long and difficult road to victory." - Professor Dennis Showalter
"Ordered to capture the heavily fortified high-ground of Montfaucon on the first day of Meuse-Argonne, the doughboys of 79th Division-fresh from Baltimore, Washington and Philadelphia-proved themselves as brave and tenacious soldiers. With Their Bare Hands is a fine testament to their courage under fire and a compelling work of history by Gene Fax." - Mitchell Yockelson, author of FORTY-SEVEN DAYS: HOW PERSHING'S WARRIOR'S CAME OF AGE TO DEFEAT THE GERMAN ARMY IN WORLD WAR I
"A careful study of a little-remembered division, in a little-remembered battle, in a little-remembered war. All of which is a pity, because as Gene Fax points out, the accomplishments of the 79th Division were remarkable and reflected better on the record of the American Expeditionary Force than historians often assume. A meticulous story, compellingly told." - Eliot Cohen, author of THE BIG STICK: THE LIMITS OF SOFT POWER AND THE NECESSITY OF MILITARY FORCE
or
Not Currently Available for Direct Purchase