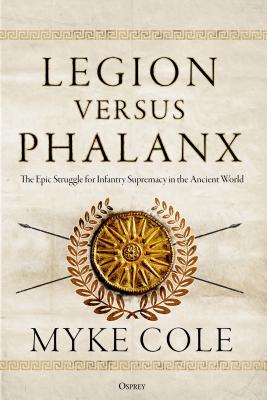 Legion versus Phalanx (Hardcover)
The Epic Struggle for Infantry Supremacy in the Ancient World
Osprey Publishing, 9781472828422, 288pp.
Publication Date: October 23, 2018
Other Editions of This Title:
Paperback (1/21/2020)
MP3 CD (1/1/2019)
Compact Disc (1/1/2019)
* Individual store prices may vary.
Description
From the time of Ancient Sumeria, the heavy infantry phalanx dominated the battlefield. Armed with spears or pikes, standing shoulder to shoulder, and with overlapping shields, they presented an impenetrable wall of wood and metal to the enemy. It was the phalanx that allowed Greece to become the dominant power in the Western world. That is, until the Romans developed the legion and cracked the phalanx.
In Legion versus Phalanx Cole weighs the two fighting forces against each other. Covering the period in which the legion and phalanx clashed (280--168 BC), he looks at each formation in detail--delving into their tactics, arms, and equipment, organization and the deployment. It then examines six key battles in which legion battled phalanx: Heraclea (280 BC), Asculum (279 BC), Beneventum (275 BC), Cynoscephalae (197 BC), Magnesia (190 BC), and Pydna (168 BC)--battles that determined the fate of the ancient world. Drawing on original primary sources, Myke Cole presents a highly detailed but lively history of this defining clash of military formations.
About the Author
MYKE COLE is a devoted comic fan and voracious fantasy reader who never misses his weekly game night. His fandoms range from Star Wars to military history. He's a former kendo champion and heavy weapons fighter in the Society for Creative Anachronism. At the D&D table, he always plays paladins. After a career hunting people in the military, police, and intelligence services, Cole put these skills to good use on CBS's hit show Hunted. Author of the Shadow Ops series and the Sacred Throne Trilogy, which begins with The Armored Saint, Cole lives in Brooklyn, New York.
Praise For Legion versus Phalanx: The Epic Struggle for Infantry Supremacy in the Ancient World…
"On the face of it, this could be a turgidly dry chin-stroking look into ancient warfare tactics but, thanks the brio of author Myke Cole, it's anything but. [...] The author points out elements that are largely accepted as fact thanks to detailed reports, and others where supposition comes into play, but he does this with a skill that makes it seem like a discussion between friends, not a lecture.
With an excellent colour plate section full of photos of armour, illustrations, ancient graphics and diagrams of troop dispositions you have a highly entertaining and yet worthy look into how and why the Roman Legion was so effective against the Phalanx that had previously dominated the battlefield." - The Armourer, January 2019
"Amazing, detailed, thoroughly researched and genuinely exciting." - Anna Stephens, Author of 'Godblind'
"A simply fascinating and informative read that is exceptionally well researched, written, organized and presented, Legion versus Phalanx: The Epic Struggle for Infantry Supremacy in the Ancient World is an extraordinary, unique, and seminal study. - Midwest Book Review
"Legion Versus Phalanx is an entertaining read and a good reference for this fascinating period." - Toy Soldier & Model Figure