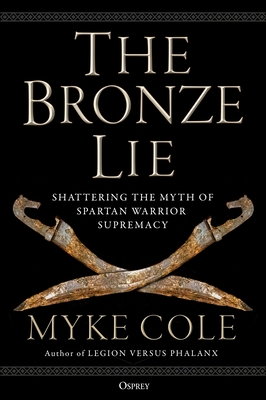 The Bronze Lie
Shattering the Myth of Spartan Warrior Supremacy
Hardcover

* Individual store prices may vary.
Other Editions of This Title:
Digital Audiobook (9/6/2021)
Paperback (2/7/2023)
Description
The story of the Spartans is one of the best known in history, from their rigorous training to their dramatic feats of arms--but is that portrait of Spartan supremacy true? Renowned novelist and popular historian Myke Cole goes back to the original sources to set the record straight.

The Spartan hoplite enjoys unquestioned currency as history's greatest fighting man. Raised from the age of seven in the agoge, a military academy legendary for its harshness, Spartan men were brought up to value loyalty to the polis (the city-state) above all else, and to prize obedience to orders higher than their own lives. The last stand at Thermopylae made the Spartans legends in their own time, famous for their brevity and their ability to endure hardship, to control their emotions, and to never surrender--even in the face of impossible odds, even when it meant their certain deaths.

But was this reputation earned? Or was it simply the success of a propaganda machine that began turning at Thermopylae in 480 BC? Examining the historical record, both literary and material, paints a very different picture of Spartan arms--a society dedicated to militarism not in service to Greek unity or to the Spartan state itself, but as a desperate measure intended to keep its massive population of helots (a near-slave underclass) in line, forcing them to perform the mundane work of farming, cleaning, building and crafting to permit the dandified Spartan citizens (spartiatai) the time they needed to focus on their military training.

Covering Sparta's full classical history, The Bronze Lie examines the myth of Spartan warrior supremacy against the historical record, delving into the minutiae of Spartan warfare from arms and armor to tactics and strategy. With a special focus on previously under-publicized Spartan reverses that have been left largely unexamined, it looks at the major battles as well as re-examining major Spartan "victories." Most importantly, it re-examines Thermopylae itself, a propaganda victory utterly out of proportion to its actual impact--a defeat that wasn't even accomplished by 300 Spartans, but rather by thousands of allied Greeks, all for the net effect of barely slowing a Persian advance that went on to roam Greece unchecked and destroy Athens itself.
Praise For The Bronze Lie: Shattering the Myth of Spartan Warrior Supremacy…
"The "Spartan mirage," as it has been termed, is one of history's greatest distortions -- a myth of Spartan strength built up over millennia, still propagated today in politics and popular culture. With a masterful array of evidence, Myke Cole lifts the curtain to show us the real human beings -- flawed, conflicted, and above all, vulnerable -- who somehow built themselves up into supermen." —James Romm, Professor of Classics and author of 'The Sacred Band: Three Hundred Theban Lovers Fighting to Save Greek Freedom'

"This book will have a great impact helping people put to right where the Spartan Mirage currently holds sway." —Professor Stephen Hodkinson, Emeritus Professor of Ancient History, University of Nottingham

"As entertaining as it is enlightening, Myke Cole's The Bronze Lie reveals the fascinating reality behind one of the most pervasive myths of the ages. This is Sparta." —Professor Michael Livingston, The Citadel
Osprey Publishing, 9781472843753, 464pp.
Publication Date: September 7, 2021
About the Author
Myke Cole has had a colourful and varied career, with service in war and crisis response. He began as a security contractor to the CIA, and transitioned into a federal intelligence position first with DIA (Defense Intelligence Agency), and then with the ONI (Office of Naval Intelligence). He commanded the reserve at US Coast Guard Station New York, where he was responsible for maritime law enforcement and search-and-rescue operations around the island of Manhattan. He went on to work for the NYPD in cyber threat intelligence, and currently works as a security and intelligence consultant in the private sector. He lives in Brooklyn, NY.

He has published extensively in military history and security, including pieces in the journals of the American Association of Museums and the American Historical Association, and is also a popular fantasy and science fiction novelist with several major imprints, including Ace/Roc, Tor and Angry Robot. Myke also appeared on CBS' hit TV show Hunted, where he joined a team of elite investigators pursuing fugitives across the southeastern United States.