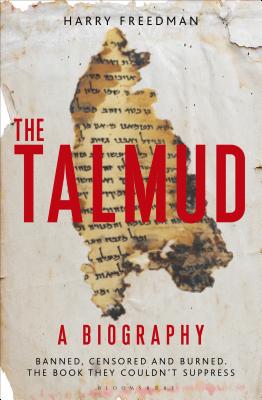 The Talmud – A Biography
Banned, censored and burned. The book they couldn't suppress
Hardcover

* Individual store prices may vary.
Description
The story of the Talmud is the story of the Jewish people--a thrilling insight into Jewish culture and a devastating account of the history of anti-Semitism.

In The Talmud, Jewish scholar Harry Freedman tells the engrossing story of an ancient classic, the legal and mystical pillar of Judaism, and recounts the story of a chronicle that, in many ways, parallels the history of the Jewish people. Containing nearly two million words in thirty-seven volumes, the Talmud covers topics as diverse as law, faith, medicine, magic, ethics, sex, humor, and prayer. It is a highly complex, profoundly logical, and frequently impenetrable work with a history like no other. In its fifteen-hundred-year history, the Talmud has been banned, censored, and burned; dissected by scholars and rabbis; probed by philosophers, poets, politicians, and kings.

From its origins as a record of discussions among scholars in towns and villages close to modern-day Baghdad, Freedman traces the spiraling paths of the Jewish diaspora and explores the story of the Talmud, its role during the Enlightenment, and its influence over traditional Judaism.

A compelling fusion of law, storytelling, and spirituality, the Talmud's story provides fascinating insight into the history of Judaism, and Harry Freedman'sThe Talmud – A Biography is a remarkable account of one of the most important cultural, historical, and religious works of our time.
Praise For The Talmud – A Biography: Banned, censored and burned. The book they couldn't suppress…
"Freedman brings impressive research to the biography of a 2,000-year-old text that still excites scholars, inspires controversy and reflects turbulent events in Jewish history." —Kirkus

"A biography of the Talmud--call it a bibliobiography--is welcome. Such a book could explain how the Talmud came to be and who reads it and why. Perhaps most important, it would explain to the uninitiated how to understand the Talmud's complicated logic. Harry Freedman's The Talmud: A Biography addresses almost all of these subjects . . . Mr. Freedman writes with evocative brio." —Wall Street Journal

"While the Talmud itself may be impenetrable for many, in The Talmud – A Biography: Banned, censored and burned. The book they couldn't suppress, author Harry Freedman has written an engaging account of the book itself. For those who may be fascinated by the Talmud and at the same time intimidated by it, the book is a great resource that profiles what the Talmud is." —Ben Rothke, The Times of Israel
Bloomsbury Continuum, 9781472905949, 256pp.
Publication Date: October 14, 2014
About the Author
Harry Freedman is Britain's leading author of popular works of Jewish culture and history. His publications include The Talmud: A Biography, Kabbalah: Secrecy, Scandal and the Soul, The Murderous History of Bible Translations and The Gospels' Veiled Agenda. He has written for the Guardian, Jewish Chronicle, Jewish Quarterly, Judaism Today and contributed to the Encyclopaedia of Modern Jewish Culture.