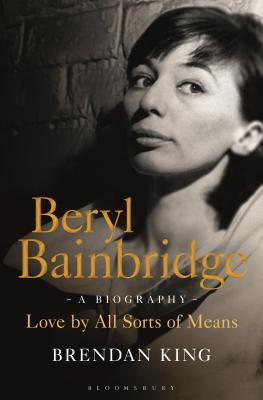 Beryl Bainbridge
Love by All Sorts of Means: A Biography
Hardcover

* Individual store prices may vary.
Description
Dame Beryl Bainbridge was one of the best loved and most recognizable English novelists of her generation. She was shortlisted for the Booker Prize five times and her critically acclaimed novels The Dressmaker (1973),The Bottle Factory Outing (1974), An Awfully Big Adventure (1990), Every Man For Himself (1996) and Master Georgie (1998) confirmed her status as one of the major literary figures of the last fifty years.
A unique voice in fiction, and unforgettable in person, Beryl Bainbridge was famous for her gregarious drinking habits and her unconventional lifestyle. Yet underneath the public image of a quirky eccentric lay a complex and sometimes traumatic private life that she rarely talked about and which was often only hinted at in her novels.
In this first full-length biography, Brendan King draws on a mass of unpublished letters and diaries to reveal the real woman behind the popular image. He explores Bainbridge's difficult childhood in Formby, her career as a young actress at the Liverpool Playhouse, and her life as a single mother and writer in Camden Town. Along the way he tackles her complex private life: her failed marriage to the painter Austin Davies, her affairs, and her longstanding relationship with her publisher, Colin Haycraft.
This frank portrait of Beryl Bainbridge tells the story of a life that is every bit as dramatic and compelling as one of her own perfectly-crafted novels.
Praise For Beryl Bainbridge: Love by All Sorts of Means: A Biography…
"Beryl Bainbridge: Love By All Sorts of Means by Brendan King completely gripped me. It made me intensely nostalgic for a time when literary life consisted mainly of drinking and f**king" - Linda Grant, Guardian Books of the Year 2016
"A first rate biography . . . King gets the tone absolutely right" - Evening Standard
"[A] superb first biography . . . Finishing this biography, we'll know quite enough to see for ourselves that the comical bizarreness of the masterly fiction had inspiration aplenty in the chaos, breakdowns and excesses of [Bainbridge's] daily existence" - The Times
"This vivid biography details a complicated private life, from which emerged novels that rank as major achievements in English fiction . . . King, who worked as Bainbridge's assistant throughout the last 23 years of her life, weaves a gripping narrative . . . compassionate and authoritative" - Guardian
"[King] has had unlimited access to [Bainbridge's] huge collection of letters, diaries and journals . . . I cannot think of another biography that plunders its subject's privacy to such an illuminating degree." - The Sunday Times
"The biography of the year" - Mail on Sunday
"King is very good on Bainbridge's emotional life, aided by her prolific letters" - Daily Telegraph
"Conscientious . . . detailed . . . fair and kind . . . King, who worked with Bainbridge as an amanuensis for more than 20 years, notes how certain stories and characters from her life were threaded into her novels" - New Statesman
"Sympathetic, even-handed and illuminating . . . The biography's most fascinating revelation is about Bainbridge's relationship with her publishers Colin and Anna Haycraft (the novelist Alice Thomas Ellis)" - Observer
"What King has achieved in this calm and careful biography is a portrait of Bainbridge's imagination. He tells the sequential story of her life and loves, but shows too how her creativity rebelled against the rules of linear time. She wrote and she painted so that what had happened would always be happening, fixed in a less transient frame than her own frail body." - Ruth Scurr, Times Literary Supplement
"I ended up reading it in the bath . . . Brendan King, [Bainbridge's] long-standing amanuensis, has done her justice" - Melanie McDonagh, The Tablet
"Astonishing . . . You have to laugh, or you'll cry. The best of Bainbridge's fiction – and this marvelous biography – invites us to do both." - Jamie Fisher, Washington Post
"Gripping" - The Week
"King, who was Bainbridge's assistant for the last 23 years of her life, writes authoritatively and objectively about her early acting career, her colorful and at times turbulent private life and, of course, her wonderful, memorable, bleakly comic novels." - Malcolm Forbes, Minneapolis Star Tribune, 50 Best Books for Holiday Giving, 2016
"A fair and conscientious account of the life of the British novelist, drawing on letters and diaries" - New York Times Book Review, Editor's Choice
"A naturally interesting biography" - New York Review of Books
"Will be of enormous help in enhancing the reader's appreciation of her multifarious output" - Washington Times
Bloomsbury Continuum, 9781472908537, 576pp.
Publication Date: November 8, 2016
About the Author
Brendan King is an author, editor and translator. Between 1987 and 2010 he worked for the novelist Beryl Bainbridge, and helped prepare her final novel The Girl in the Polka-dot Dress for publication after her death.
or
Not Currently Available for Direct Purchase