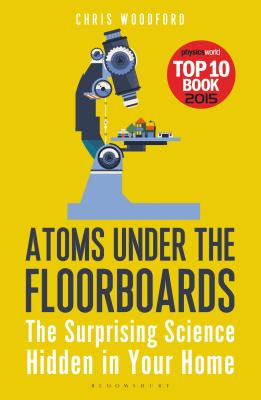 Atoms Under the Floorboards
The Surprising Science Hidden in Your Home
Paperback

* Individual store prices may vary.
Description
Using the modern home as a springboard, Atoms Under the Floorboards presents the fascinating and surprising scientific explanations behind a variety of common (and often entertainingly mundane) household phenomena, from gurgling drains and squeaky floorboards to rubbery custard and shiny shoes.

Packed with facts and fun, each chapter focuses on the objects and processes familiar in everyday life and slowly unpicks the science behind them. For example, the chapter on how buildings work introduces static and dynamic forces in explaining why buildings (and their foundations) don't sink into the ground and why skyscrapers don't blow over in strong winds. The chapter on bicycles explores how "circles (better known as wheels) with a few flimsy bits of metal (spokes) stretched between them" are able to support your weight--and this leads into a discussion of compression, tension, and how gears work.

After reading Atoms Under the Floorboards, you'll never look at everyday objects the same way again.
Praise For Atoms Under the Floorboards: The Surprising Science Hidden in Your Home…
"ATOMS UNDER THE FLOORBOARDS provides elegant answers to questions so obvious you've never thought of them . . . There is plenty here to interest those curious about the scientific underpinnings of the modern world." —The Wall Street Journal

"The author's engaging narrative simplifies even the most complex of scientific phenomena to the point that anyone, from the person who hasn't been in a science class since high school to the PhD scientist, will be able to gain knowledge and enjoyment out of this book." —Library Journal

"ATOMS UNDER THE FLOORBOARDS is so well written that one can happily read it from cover to cover.... [readers] will be captivated not only by the answers to questions about our daily lives, but by the imaginative subject matter Woodford has selected." —Cary Seidman, NSTA Recommends

"This is a fun book and you don't even have to be a science nerd like me to enjoy it." - Beagle and Wolf Books & Bindery
Bloomsbury Sigma, 9781472912237, 336pp.
Publication Date: June 28, 2016
About the Author
Chris Woodford has been a science and technology writer for twenty-five years. He is the author, co-author, or editor of a number of science education books, including the bestselling COOL STUFF series. His website, www.explainthatstuff.com, is dedicated to explaining the science behind familiar, everyday things. He lives in Dorset, UK.
or
Not Currently Available for Direct Purchase