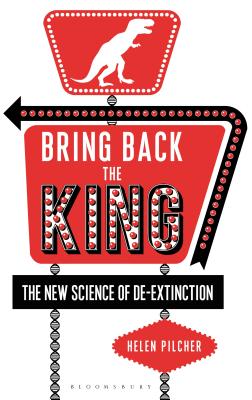 Bring Back the King (Hardcover)
The New Science of De-extinction
Bloomsbury Sigma, 9781472912251, 304pp.
Publication Date: January 10, 2017
Other Editions of This Title:
Paperback (12/5/2017)
Paperback (9/22/2016)
* Individual store prices may vary.
Description
Helen Pilcher is uniquely qualified to explain the cutting-edge science that makes the resurrection of extinct animals a very real possibility, while acknowledging the serious and humorous aspects of giving a deceased animal a second chance to live. If you could bring back to life a person or animal, what would you choose? Pilcher highlights her own choices from eras gone, including the King of the Dinosaurs, Tyrannosaurus rex, and the King of Rock 'n' Roll, Elvis Presley.
From dinosaurs to dodos and Neanderthals, Bring Back the King reveals how the burgeoning field of DNA science is being used to help resurrect individual animals (did your beloved Fido die before siring offspring?) and entire species from their stony graves. Pilcher describes current initiatives and future plans to restore deceased animals, and uses both science and willful irreverence to assess the ramifications of how these genetic Lazaruses might fare in their brave new world. Could a pet dinosaur be trained to roll over? Would Neanderthals enjoy opera? Could a returning dodo seek vengeance upon humanity?
Blending the very latest de-extinction technology with cloning, and hard-core popular science with levity, Bring Back the King will generate a lot of thoughtful discussion and a chuckle or two.
About the Author
Helen Pilcher is a professional science writer with a Ph.D. in stem-cell biology. A former journalist for Nature online, she also worked as a senior scientist for a biotechnology company, engineering a series of human stem-cell lines for transplantation into damaged human brains. She is also a stand-up comedian who has performed at the Edinburgh Comedy Festival and in clubs across Britain. She lives in Warwickshire, UK.
Praise For Bring Back the King: The New Science of De-extinction…
"[Pilcher] asks provocative questions about both the nature of science and what it means to be human. Pilcher uses humor effectively to keep readers engaged, and there is a great deal here to entertain and educate them." - Publishers Weekly
"A unique perspective on our responsibility to preserve the chain of being of which we are only a part." - Kirkus Reviews
"With humour and accuracy, Helen Pilcher surveys the wondrous array of wildlife de-extinction and preservation projects that employ current breakthroughs in genomic technology. (Plus Elvis, who was a different kind of wild.)" - Stewart Brand author of WHOLE EARTH DISCIPLINE and co-founder of Revive & Restore
"Lighthearted but informative read . . . buy this title as a great insight into modern biology and a more accessible look at de-extinction." - Henrietta Verma, Booklist
"A friendly tour of genetics and cloning, with a bit of history thrown in." - Brian Switek, The Wall Street Journal
"Entertaining and harrowing . . . offer[s] many of popular science's deep and trivial brainy pleasures." - John Williams, The New York Times
or
Not Currently Available for Direct Purchase