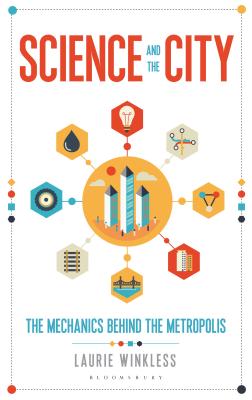 Science and the City
The Mechanics Behind the Metropolis
Hardcover

* Individual store prices may vary.
Other Editions of This Title:
Paperback (10/10/2017)
Description
Science is secretly at work behind the scenes of major cities of the world and will continue to be so. Technological advances in fields as diverse as quantum mechanics, electronics, and nanotechnology are proving increasingly important to city life, and the urban world will turn to science to deliver solutions to the problems of the future; more than 50 percent of the world's population now lives in cities, and that proportion is growing fast. Can engineering provide the answer to a viable megacity future?

Science and the City starts at your front door and guides you through the technology of everyday city life: how new approaches to building materials help to construct the tallest skyscrapers in Dubai, how New Yorkers use light to treat their drinking water, how Tokyo commuters' footsteps power gates in train stations. Uncovering the science and engineering that shapes our cities, Laurie Winkless reveals how technology will help us meet the challenges of a soaring world population--from an ever-increasing demand for power, water, and internet access, to simply how to get about in a megacity of tens of millions of people.
Praise For Science and the City: The Mechanics Behind the Metropolis…
"Winkless' behind-the-bustle tour [of the science of cities] also offers abundant facts of General interest . . . [A] packed-with-detail, textual work that will be a hit with both young adult and adult patrons curious about what makes cities tick." - Booklist

"Physicist and materials and energy harvesting specialist Winkless explores the engineering feats that make urban lifestyles possible . . . [She] explains the complexities of the topic in broad terms, making them accessible to general readers." - Library Journal

"In this cheerful addition to the how-things-work genre, physicist and science writer Winkless reminds readers that urban areas are now home to more than half the human race and use an increasing proportion of the Earth's natural resources, so it behooves people to know how they operate." - Publishers Weekly

"Laurie Winkless aptly describes how cities function on a daily basis in a manner that would be equally accessible to high-school students and practicing engineers." - Science
Bloomsbury Sigma, 9781472913210, 304pp.
Publication Date: October 25, 2016
About the Author
Laurie Winkless is a physicist and writer, currently based in New Zealand. Following a degree at Trinity College Dublin, a placement at NASA's Kennedy Space Centre, and a masters in Space Science at UCL, Laurie worked at the National Physical Laboratory, specialising in materials. Thermoelectric energy harvesting – where heat is captured and converted into electricity – was her bag, and remains a favourite topic of conversation.

Laurie has been communicating science to the public for more than a decade, working with schools and universities, the Royal Society, Forbes, and the Naked Scientists, amongst others. She's given TEDx talks, hung out with astronauts, and appeared in The Times magazine as a leading light in STEM. Her first book, Science and the City, came out in 2016, and she is following this up with STICKY.