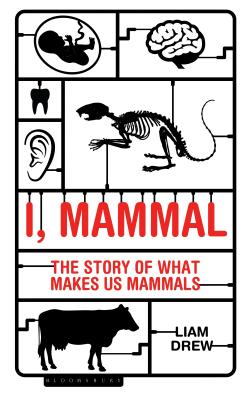 I, Mammal
The Story of What Makes Us Mammals
Hardcover

* Individual store prices may vary.
Other Editions of This Title:
Paperback (7/30/2019)
Description
Humans are mammals. Most of us appreciate that at some level. But what does it mean for us to have more in common with a horse and an elephant than we do with a parrot, snake or frog?
After a misdirected football left new father Liam Drew clutching a uniquely mammalian part of his anatomy, he decided to find out more. Considering himself as a mammal first and a human second, Liam delves into ancient biological history to understand what it means to be mammalian.
In his humorous and engaging style, Liam explores the different characteristics that distinguish mammals from other types of animals. He charts the evolution of milk, warm blood and burgeoning brains, and examines the emergence of sophisticated teeth, exquisite ears, and elaborate reproductive biology, plus a host of other mammalian innovations. Entwined are tales of zoological peculiarities and reflections on how being a mammal has shaped the author's life.

I, Mammal is a history of mammals and their ancestors and of how science came to grasp mammalian evolution. And in celebrating our mammalian-ness, Liam Drew binds us a little more tightly to the five and a half thousand other species of mammal on this planet and reveals the deep roots of many traits humans hold dear.
Praise For I, Mammal: The Story of What Makes Us Mammals…
"I, Mammal is just the sort of book that can spark a love of nature and an appreciation for the ever-changing, eternally correcting march of science." - Science
"A splendid evolutionary study. . . Drew is a wry guide to wonders such as the evolution of the scrotum and the epic journey of marsupial newborns." - Nature
"Drew's immersion makes one proud to be a mammal." - Nancy Bent, Booklist
"An excellent combination of scientific principle and comedic wit that will appeal to biology fans and non-scientists alike. An excellent read." - How It Works
"Drew vividly conveys the excitement of scientific discovery [and] combines detailed technical information with interesting natural-history tidbits. There's much to be savoured by scientists and nonscientists alike." - Publishers Weekly
"From ice-sliding bison and tail-biting platypuses to cats and bats, hedgehogs and hooded seals, I, Mammal will change the way you think about hairy, milk-making, warm-blooded animals (yourself included). This carnival of mammals is science writing at its most funny, companionable and smart." - Helen Scales, marine biologist, broadcaster and author of Spirals in Time
"Not only fun and instructive but also wonderfully written, I, Mammal takes us on an erudite journey through mammalian evolution. Liam Drew effortlessly weaves science together with all manner of often very funny anecdotes. Reading it will be a pleasure for scientists and non-specialists alike." - René Hen, Professor of Neuroscience and Psychiatry, Columbia University
Bloomsbury Sigma, 9781472922892, 336pp.
Publication Date: January 16, 2018
About the Author
Liam Drew is a writer, former neurobiologist, and mammal. He has a Ph.D. in sensory biology from University College London, and spent twelve years researching the neural and genetic basis of schizophrenia, the biology of pain and the birth of new neurons in the adult mammalian brain at Columbia University, New York and at UCL. His writing has appeared in Nature, New Scientist, Slate, and the Guardian. He is director of NeuWrite London, a London subsidiary of 'NeuWrite: a collaborative working group for scientists, writers, and those in between'. He lives in Kent with his wife and two daughters.
or
Not Currently Available for Direct Purchase