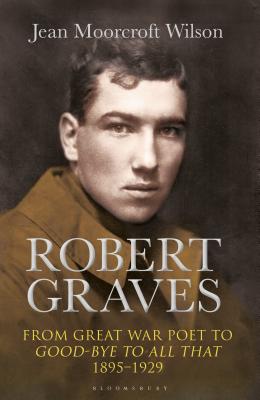 Robert Graves
From Great War Poet to Good-bye to All That (1895-1929)
Hardcover

* Individual store prices may vary.
Description
The writer and poet Robert Graves suppressed virtually all the poems he had published during and just after the First World War. Until his son, William Graves, reprinted almost all the Poems About War in 1988, Graves's status as a "war poet" seems to have depended mainly on his prose memoir Goodbye to All That. None of the previous biographies written on Graves attempt to deal with this paradox in any depth. The suppressed poems themselves have been largely neglected--until now.
Jean Moorcroft Wilson, celebrated biographer of Siegfried Sassoon and Edward Thomas, relates Graves' fascinating life during the period from his birth up until the early 1930s: his experiences in the war, his being left for dead at the Battle of the Somme, his move to Spain, and his final "goodbye" to Sassoon in 1933. In this deeply-researched new book, containing startling archival material never previously revealed and little-studied poems, Moorcroft Wilson traces how Graves' compelling life informed the development of his poetry during the First World War, his thinking about the conflict and his shifting attitude towards it. This illuminating look at Graves' life and poetic work reaffirms his place among the important poets of the Great War.
Robert Graves: From Great War Poet to Goodbye to All That casts new light on the life, prose and poetry of Graves, without which the story of Great War Poetry is incomplete.
Praise For Robert Graves: From Great War Poet to Good-bye to All That (1895-1929)…
"Commanding ... To encounter [Graves] in these pages is to feel something of the relentlessly explosive energy with which he lived the first half of his life. Wilson lands him like a Zeppelin bomb." —Observer
"Jean Moorcroft Wilson has built an unassailable reputation as our leading authority on the poets of the Great War ... Combining intelligent and perceptive criticism of his work, with revealing insights into the man, this study of the devastating impact of the conflict on Graves makes for compelling reading. I cannot recommend it too highly" —Nigel Jones, author of Rupert Brooke: Life, Death & Myth
"Diligent and insightful ... Jean Moorcroft Wilson teases the truth from Graves's exaggerations, mis-rememberings and downright gibs ... She is by turns compassionate and caustic and is clear sighted … [Her] close reading of the war poems is illuminating." —The Times
"Wilson unveils the poet behind the man struggling to make, not write, poetry [and] clarifies our understanding of what Graves was about" —Literary Review
"Consistently illuminating" —Andrew Motion, Spectator
"A sensitive rendering of the poet's formative years ... finely nuanced" —Kirkus Reviews
"A fine attempt to give Graves his due in the context of the Great War" —Evening Standard
"This is an exemplary biography and a terrific entertainment … Wilson brings this difficult, unlovable but strangely impressive man yelpingly to life" —Sunday Times
"Deft and commanding ... On a par with her other outstanding biographies" —BBC History Magazine
"25 years after the last biography, a fresh approach … Measured and dispassionate … This is biography at its best" —Country Life
"A sensitive rendering of the poet's formative years … A sympathetic perspective on Graves' eventful life." —Kirkus Reviews
"A well-researched, readable biography" —Library Journal
Bloomsbury Continuum, 9781472929143, 480pp.
Publication Date: October 23, 2018
About the Author
Jean Moorcroft Wilson is an eminent literary biographer, a lecturer at Birkbeck College and a leading expert on First World War Literature. She is the author of biographies of Siegfried Sassoon, Charles Hamilton Sorley and Isaac Rosenberg and married to the nephew of Virginia Woolf.
or
Not Currently Available for Direct Purchase