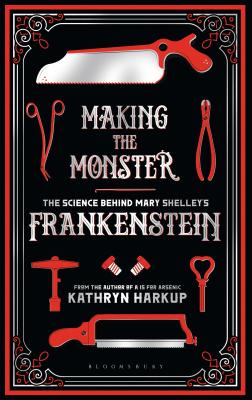 Making the Monster
The Science Behind Mary Shelley's Frankenstein
Paperback

* Individual store prices may vary.
Other Editions of This Title:
Hardcover (2/6/2018)
MP3 CD (5/8/2018)
Description
A thrilling and gruesome look at the science that influenced Mary Shelley's Frankenstein.

The year 1818 saw the publication of one of the most influential science-fiction stories of all time. Frankenstein: Or, Modern Prometheus by Mary Shelley had a huge impact on gothic horror and science-fiction genres, and her creation has become part of our everyday culture, from cartoons to Halloween costumes. Even the name "Frankenstein" has become a by-word for evil scientists and dangerous experiments. How did a teenager with no formal education come up with the idea for an extraordinary novel such as Frankenstein?

Clues are dotted throughout Georgian science and popular culture. The years before the book's publication saw huge advances in our understanding of the natural sciences, in areas such as electricity and physiology, for example. Sensational science demonstrations caught the imagination of the general public, while the newspapers were full of lurid tales of murderers and resurrectionists.

Making the Monster explores the scientific background behind Mary Shelley's book. Is there any science fact behind the science fiction? And how might a real-life Victor Frankenstein have gone about creating his monster? From tales of volcanic eruptions, artificial life and chemical revolutions, to experimental surgery, "monsters" and electrical experiments on human cadavers, Kathryn Harkup examines the science and scientists that influenced Shelley, and inspired her most famous creation.
Praise For Making the Monster: The Science Behind Mary Shelley's Frankenstein…
"'Lucidly illuminates Shelley's investment in the rapidly expanding knowledge of chemistry, biology and electricity of her times, and reminds us of how Frankenstein helped inspire technological developments, such as the pacemaker." —Wall Street Journal

"Making the Monster reassembles the intellectual toolkit Shelley had at her disposal ... everything she could have known about alchemy, spontaneous generation, phlogiston, physical decomposition, anatomy, transplant surgery, galvanism and human reanimation, digested for the 21st-century reader." —Literary Review

"An engaging account of the facts and fears of the 19th century that lay behind the composition of Mark Shelley's Frankenstein. A telling reminder that although science has moved on, fears about what it might soon do have scarcely changed." —Steve Jones FRS, Emeritus Professor of Genetics at UCL, author and broadcaster

"A fascinating and educational journey through the shadowy twists and turns of medical history. The odours of the dissection rooms and the sounds of the public executions are brought to life just as vividly as the monster himself." —Carla Valentine, Mortician and Pathology Museum Curator

"The novel makes for both good entertainment reading and it's also a brilliantly conceived educational tool for understanding a broad swath of science and technology from the early 18th century." —Borg.com

"Accompanying Harkup's eloquent prose are classic illustrations and artwork, a downright impressive timeline listing important historical events in relation to Mary's life, and a thorough bibliography for further reading. Making the Monster is a must-read for any diehard Frankenstein or Mary Shelley fan, as well as anyone passionate about picking apart the inspirations of great stories. If you thought Mary was extraordinary before, you'll appreciate her even more after reading this. It's a fitting tribute to the clever teenager who used her morbid, fertile imagination to give birth to one of the world's greatest monsters." - Criminal Element
Bloomsbury Sigma, 9781472933768, 304pp.
Publication Date: November 19, 2019
About the Author
Kathryn Harkup is a chemist and author. Kathryn completed a doctorate on her favourite chemicals, phosphines, and went on to further postdoctoral research before realising that talking, writing and demonstrating science appealed more than hours slaving over a hot fume-hood. Kathryn is now a science communicator, giving regular public talks on the disgusting and dangerous side of science. Kathryn's first book was the international best-seller A is for Arsenic, which was shortlisted for both the International Macavity Award and the BMA Book Award.

@RotwangsRobot