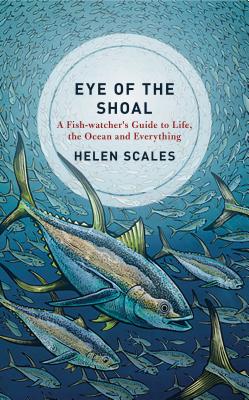 Eye of the Shoal
A Fishwatcher's Guide to Life, the Ocean and Everything
Hardcover

* Individual store prices may vary.
Other Editions of This Title:
Paperback (6/30/2020)
Description
There's something about fish that leaves a cold, slimy whiff in many people's minds. Either that, or fish are simply "food"; catching fish to eat is so deeply ingrained that we fish for fish, but we don't pigeon a pigeon or deer a deer. It's difficult to think of fish as wild, living things, partly because those chunks of white meat on our plates are almost impossible to connect to animate, living, breathing creatures.

Wild fish hover in seas, rivers and lakes, out of sight and out of mind. But from the very first time Helen Scales immersed herself into their liquid world, she realized that fish are beautiful, mesmerizing, complex and exciting. The moment she sank down to eyeball a wild trout-the fish poised in front of her, expertly occupying the three-dimensional space in a way that she could only dream of imitating-sparked the ichthyologist within, and set in motion years of study and exploration in the fishes' unseen domain as she became a devoted fish-watcher.

In this book, Scales shares the secrets of fish, unhitching them from their reputation as cold, unknowable beasts and reinventing them as clever, emotional, singing, thoughtful creatures, and challenging readers to rethink these animals. She takes readers on an underwater journey to watch these creatures going about the hidden but glorious business of being a fish. Their way of life is radically different from our own, in part because they inhabit a buoyant, sticky fluid in which light, heat, gases and sound behave in odd ways. They've evolved many tactics to overcome these challenges, to become megastars of the life sun-aquatic. In doing so, these extraordinary animals tell us so much about the oceans and life itself. Our relationship with these scaly creatures goes much deeper than predator versus prey. Fish leave their mark on the human world.

As well as being a rich and entertaining read, this book will inspire readers to think again about these animals, and the seas, and to go out and appreciate the wildness and wonders of fish, whether through the glass walls of an aquarium or, better still, by gazing into the fishes' wild world and swimming through it.
Praise For Eye of the Shoal: A Fishwatcher's Guide to Life, the Ocean and Everything…
"Popular science books don't get much better than this accessible and eye-opening look at fish." - Publishers Weekly

"A sprawling, ambitious underwater journey . . . studded with fascinating tidbits." - New York Times Book Review

"The author has a canny approach to bringing fish to life on the page . . . Entertaining reading for anyone interested in the captivating underworld realm of fish." - Kirkus

"Scales's genuine appreciation and awe for fish are contagious." - Science

"A carefully crafted love letter to all fish." - Salon

"Eye of the Shoal is a book brimming with wonders. Shimmering colors, otherworldly abilities, and compelling dramas flood every page, as the masterful Helen Scales brings us eye-to-eye with the world of fishes – creatures who are at once thrillingly strange and startlingly ubiquitous. Whether you snorkel or scuba, whether you meet fish in a tank or on TV, this book is new portal to see our blue planet with new eyes, one that will make you love our world and its creatures all the more." - Sy Montgomery, author of The Soul of an Octopus

"Eye of the Shoal is like a beautiful glass bottomed boat that reveals this mysterious realm with joyful passion and perfect clarity. You couldn't have a more knowledgable guide on board than Helen." - Dallas Campbell, science broadcaster and author

"Eye of the Shoal is an absorbing account of the least understood area of our planet. Helen brings the depths to life, not only with wondrous accounts from her extensive travels, but also by introducing us to some magnificently improbable characters (both human and piscine), and by astonishing us with mind-blowing facts on every page." - James Harkin, QI's Head Elf and presenter on the award-winning podcast 'No Such Thing as a Fish'

"This fantastic and timely book will change your perspective on your pet goldfish, a fishmonger's window display, a darting flash of silver glimpsed from a boat and the colourful world of a coral reef. A must-read for anyone interested in life on Earth." - Helen Czerski, physicist, oceanographer and author of Storm in a Teacup

"If you already love fish wherever they swim, you'll be astonished by so many new discoveries in these pages. If you don't love fish – you surely will.' " - Carl Safina, author of The View From Lazy Point, and Beyond Words: What Animals Think and Feel

"Full of life." - The Well-Read Naturalist
Bloomsbury Sigma, 9781472936844, 320pp.
Publication Date: June 19, 2018
About the Author
Helen Scales is a marine biologist based in Cambridge, England. Her doctorate involved searching for giant, endangered fish in Borneo; she's also tagged sharks in California, and once spent a year cataloguing all the marine life she could find surrounding a hundred islands in the Andaman Sea. Helen is now a freelance researcher and broadcaster; she appears regularly on BBC Radio 4, Sky News and the BBC World Service, and has presented documentaries on topics such as whether people will ever live underwater, the science of making and surfing waves and the intricacies of sharks' minds. Spirals in Time is her second book.