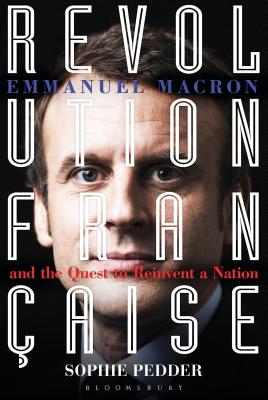 Revolution Française
Emmanuel Macron and the quest to reinvent a nation
Hardcover

* Individual store prices may vary.
Other Editions of This Title:
Paperback (7/2/2019)
Description
He emerged from nowhere to seize the presidency, defeat populism and upend French party politics. Who is Emmanuel Macron? How far can he really change France?
In Revolution Française, Sophie Pedder examines the first year in office of France's youngest and most exciting president in modern times, with unique perspective from her time as head of The Economist's Paris bureau. President Emmanuel Macron's vision for France is far more radical than many realize. His remarkable ascent from obscurity to the presidency is both a dramatic story of personal ambition and the tale of a wounded once-proud country in deep need of renewal. What shaped this enigmatic character, the precociously bright student and talented networker from northern France; the philosophy graduate and Rothschild banker who married his school drama teacher? How did a political outsider manage to defy the unwritten rules of the Fifth Republic and secure the presidency at his first attempt? And what are the underlying ideas behind his vision?
This book chronicles Macron's remarkable rise from independent outsider to the Élysée Palace, situating the achievement in a broader context: France's slide into self-doubt, political gridlock and a seeming reluctance to embrace change; the roots of populism and discontent; the fractures caused by globalization and the Le Pen factor. Looking back on the young president's dramatic first year in power, with analysis of his key reforms and lofty ambitions, it asks how far it is possible for Macron to reinvent a conservative nation uneasy about embracing the future. Can the man nicknamed 'Jupiter' really return France to its former greatness, or will he, by the time his mandate expires, end up as just another side note in political history? Punctuated with first-hand conversations and reporting, this book takes on all of these questions, concluding with a fascinating and exclusive interview with Macron recorded in early 2018. Pedder's riveting, and essential, book will be one of the most captivating political books of this year.
Praise For Revolution Française: Emmanuel Macron and the quest to reinvent a nation…
"The seminal account of Macron's rise, as riveting as a thriller." —Lauren Collins, staff writer at the New Yorker and author of When in French: Love in a Second Language
"An important and brilliant book, sparkling with insights into the elusive and highly original personality of Emmanuel Macron, and the scale of his ambition to transform France and re-launch Europe." —Lord Peter Ricketts, former British Ambassador to France
"An important book on Europe's most influential leader and whether liberalism has a future." —Robert Peston, ITV Political Editor
"[An] excellent and lavishly sourced account of Macron's "quest to reinvent a nation" ... an illuminating book about a highly unusual politician." —Financial Times
"Quick-paced, witty and elegantly written … Pedder's book is a breath of fresh air for the calmness and intelligence with which she deciphers and dissects the man and the politician." —The Times
"Probably the foreign journalist who knows [Macron] best" —Irish Times
"[An] impressive combination of reportage and analysis, enriched with tête-à-tête interviews … fluently written and well-plotted" —The Economist
"Having read Revolution Française I understand Macron much better now and the modernisation he is attempting in France." —Lord [Andrew] Adonis
"[An] excellent new biography" —Charles Grant, Director, Centre for European Reform
"Sharp … written with concise elegance" —Sunday Times
"An insightful examination of the rise, vision, and potential impact of France's youngest president ... authoritative" —Kirkus Reviews
"A superb book … Sophie Pedder has a deep understanding of what drives France and the French" —François Heisbourg, Chairman of the International Institute for Strategic Studies council, Special Adviser at the Fondation pour la Recherche Stratégique in Paris
"First rate … Revolution Francaise offers the best answer in English so far to two big questions: who is this man? And how will he change his country? … This is a model biography by a writer who knows and loves France" —New Statesman
Bloomsbury Continuum, 9781472948601, 320pp.
Publication Date: August 14, 2018
About the Author
Sophie Pedder has been Paris Bureau Chief of The Economist since 2003. She has interviewed Emmanuel Macron on numerous occasions since 2012, and followed him closely during the 2017 election campaign, securing notebooks of first-hand material on which this book is based. An award-winning journalist, she appears regularly to comment on French politics on CNN, the BBC and other media.
or
Not Currently Available for Direct Purchase