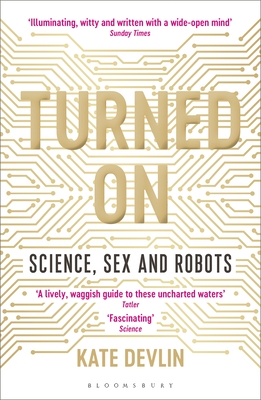 Turned On
Science, Sex and Robots
Paperback

* Individual store prices may vary.
Other Editions of This Title:
Hardcover (12/18/2018)
MP3 CD (2/12/2019)
Description
An exploration of sexuality, technology, and humanity through the promises of artificial intelligence.

The idea of the seductive sex robot is the stuff of myth, legend and science fiction. But beyond the fantasies there are real and fundamental questions about our relationship with technology as it moves into the realm of robotics. Artificial intelligence raises very real concerns. Sexual activity is central to our very existence; it shapes how we think, how we act and how we live. With advances in technology come machines that may one day think independently. What will happen to us when we form close relationships with these intelligent systems?

Chapter by chapter, this book builds on the science and the philosophy surrounding our most intimate relationship with technology. The scene is set with the history of the artificial sexual companion, then goes on to explore the "modern" robot and the twentieth century sci-fi that promised us our own robot slaves. An explanation of artificial intelligence and the urge to create sentient machines delves into our own psychology: how does desire affect our own behavior, and can we become attached to an inanimate object? Can robots make society a better place? And what can go wrong?

Sex robots are here, and here to stay--and more are coming. This book explores how the emerging and future development of sexual companion robots might affect us, and our society. It explores the social changes arising from emerging technologies, and our relationships with the machines that may someday care for us and about us.
Praise For Turned On: Science, Sex and Robots…
"An immensely absorbing and provocative book on the past, present, and future of robosexuality . . . A curiously fascinating study." —Kirkus

"Illuminating, witty and written with a wide open mind." —Sunday Times

"A lively, waggish guide to these uncharted waters, tracing ethics, sexuality, intimacy and the uncanny." —Tatler

"A highly readable romp through the history of computers, robots and sex toys [...] A fascinating introduction to the state of sex-tech." —Science

"For fans of Humans, Westworld and I, Robot. Or anyone who's ever enjoyed a flirtation with Alexa. Devlin takes us right through the AI revolution and its potential impact on our relationships [with] a relaxed and chatty tone." —Cosmopolitan

"An engaging survey of the history of humanoids." —Financial Times

"A timely, vital treatise [...] With charm and wit she tackles thorny issues." —Wired

"An unusually cool-headed tour of the current sexbot terrain. [...] Devlin's calmer, more evidence-based middle path seems appealing, especially in an area where so much polemic has already risked deadening the nerves." —Harper's Magazine

"One of Devlin's achievements is to humanise the sex robot makers and users – we are invited not to laugh at them, but to understand them." —The Times

"Big on breadth and charm ... loaded with facts and anecdotes." —The Saturday Paper

"This brilliant book is an intelligent, clear-eyed and often very funny deep dive into the history and future of love and machinery." —Warren Ellis, author of Transmetropolitan

"After millennia of fornicating with foreign objects, the ultimate sex toy has finally arrived. Kate Devlin unpacks the very long, very dense history of the sex robot with style and wit. Spoiler alert: we haven't reached Westworld ... yet." —Christopher Trout, Editor-in-Chief, Engadget

"In Turned On, Kate Devlin – the thinking person's navigator to the complex and potentially life-enhancing terrain of the sex robot – looks at the history of AI-enhanced erotic toys, then ventures far beyond our wildest imaginings." —Rowan Pelling, Editor of The Amorist
Bloomsbury Sigma, 9781472950901, 288pp.
Publication Date: October 20, 2020
About the Author
Kate Devlin is Senior Lecturer in the Department of Digital Humanities at King's College London. Having begun her career as an archaeologist before moving into computer science, Devlin's research is in the fields of Human Computer Interaction (HCI) and Artificial Intelligence (AI), investigating how people interact with and react to technology in order to understand how emerging and future technologies will affect us and the society in which we live.

A few years ago, Kate began to explore the particular ways in which sex, gender and sexuality might be incorporated into cognitive systems such as sexual companion robots; since then she has become a driving force in the field of intimacy and technology. In short, Kate has become the face of sex robots – quite literally in the case of one mis-captioned tabloid photograph. She has written articles on the subject for New Scientist, Prospect and i, appeared on BBC Radios 1–5, and made a number of TV appearances, along with TEDx talks and numerous other tech and philosophy events, receiving significant media coverage on the way. She was probably the first person to say 'sex robots' in the House of Lords – in an official capacity, at least.
or
Not Currently Available for Direct Purchase