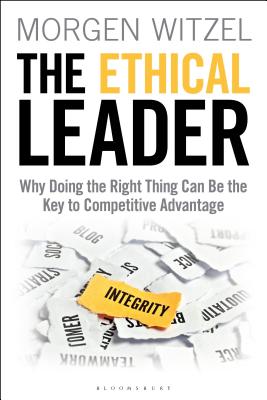 The Ethical Leader (Hardcover)
Why Doing the Right Thing Can Be the Key to Competitive Advantage
Bloomsbury Business, 9781472956590, 240pp.
Publication Date: February 12, 2019
* Individual store prices may vary.
Description
Ethical behavior in and by businesses is often seen as a bolt-on extra--something that is nice-to-do but not must-do. Morgen Witzel argues that by flipping this view--and making ethical behavior the cake and not just the icing--businesses can gain long-term competitive advantage.
Trust and respect among key stakeholder groups, especially employees and customers, cannot be overstated in their importance to an organization's success. Trust engenders loyalty and good reputation, which in turn builds brand value. The Ethical Leader provides a practical introduction to some key concepts in ethics, including how to deal with ethical paradoxes and how to make ethical decisions.
Ethical behavior is the key to trust-building, but it needs to go deeper than something managers do out of a sense of moral duty. The Ethical Leader show why ethics needs to be the platform from which to build a strong and enduring business, and it provides the necessary tools and insights for how to make this happen.
About the Author
Morgen Witzel is a Fellow of the Centre for Leadership Studies at the University of Exeter Business School. He is author of more than twenty books including the bestsellers Tata: The Evolution of a Corporate Brand and Doing Business in China, now in its third edition. His books have been translated into 11 languages. His articles have appeared in the Financial Times, the Los Angeles Times, the Toronto Globe and Mail, The Smart Manager, Financial World, and many others.
Praise For The Ethical Leader: Why Doing the Right Thing Can Be the Key to Competitive Advantage…
"Scarcely a day passes without the news of some scandal in business, sport or charities breaking – demonstrating the real need to improve ethical leadership in today's world. In this important book, Morgen Witzel brings his prodigious experience to bear on this complicated topic. He reviews what has been written and, with an enormous range of practical case study examples, shows how ethical leadership should lead to value creation. It is a must-read for leaders of any organization anywhere." —Chairman G Brown Associates Ltd; Chairman, NovaQuest Capital Management; author of The Independent Director
"Witzel invites the reader into a friendly conversation about leadership ethics in business that is both grounded in ethical theory and illustrated by real cases. His book helps students and practitioners tackle some of the ethical challenges of leadership." —Professor of Leadership Ethics, Department of Management and Global Business, and Director, Institute for Ethical Leadership, Rutgers Business School-Newark and New Brunswick
"In a sea of leadership books, Morgen Witzel has provided a stand-out insight into a reason for ethical leadership behaviour to be a major contributor to longterm business success. By placing value over profit as the performance indicator of business, he demonstrates that persistent consumer engagement with specific businesses is heavily influenced by ethical behaviours, which add value to products, services, internal management, the workforce and partner relationships. This is a highly enjoyable book to read, full of case studies that make the point that 'ethics makes you money.'" —Organization Health Psychologist and Behavioural Scientist; Chairman, The Wellbeing and Performance Group; Director, The Management Advisory Service (MAS); Independent Technical Expert, European Commission; Formerly Visiting Professor of Psychology, Universities of Northumbria and Gloucestershire
"This is the book I have been looking for: a clear and unambiguous explanation of ethics in practice, yet never simplistic, and always sympathetic to the predicaments of people making tough choices. The philosophical underpinning is sound and also comprehensive. Morgen Witzel honours the worldly-wise, but doesn't let anyone off the hook too lightly. A guidebook for leaders in all walks of life." —Emeritus Professor of Leadership Studies, University of Exeter Business School