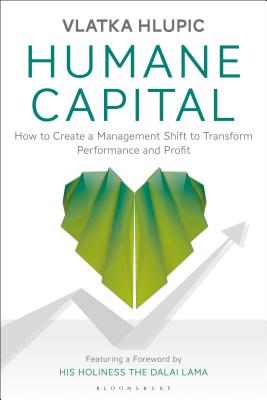 Humane Capital (Hardcover)
How to Create a Management Shift to Transform Performance and Profit
Bloomsbury Business, 9781472957641, 320pp.
Publication Date: February 5, 2019
* Individual store prices may vary.
Description
Despite decades of research illustrating the benefits of enlightened leadership, the high-performance workplace is still not the norm. Vlatka Hlupic has spent 20 years investigating this paradox, and in this book she forms a penetrating critique of why such strong evidence has had limited impact, and provides an alternative practical approach that any employer can implement to overcome these challenges.
Humane Capital brings together management wisdom and shows how successful leaders have moved their organizations from controlled and orderly to enthusiastic and collaborative. Supported by insights from 50 of the leading thinkers and practitioners in the field, the book guides readers through the arguments for a radical reassessment of current business models, and the successful stories of employers from the private and public sectors who have made the transition.
There is a clear correlation between those companies that are 'good' and those that do well--"good" meaning an organization that works with stakeholders, employees, society and customers. The book illustrates what steps need to be taken by managers and leaders in order to create a good, humane organization and achieve a high-performance workplace and sustainable success.
About the Author
Vlatka Hlupic is an international award-winning thought leader. She is Professor of Business and Management at the University of Westminster, a former Adjunct Faculty at London Business School, a consultant/Visiting Faculty for Said Business School and a global faculty member of FT/IE Corporate Learning Alliance. Vlatka is also a founder and CEO of The Management Shift Ltd and the Drucker Society London. She was voted one of the Most Influential Thinkers in the world in 2015 and 2016 by HR magazine.
Praise For Humane Capital: How to Create a Management Shift to Transform Performance and Profit…
"Not only are great leaders first and foremost good human beings, Vlatka's excellent book Humane Capital explains loud and clear how this can be translated into high-performance organizations and above-average return. Possibly the best investment you could ever make." —CEO of Unilever; Vice-Chair of the Board of the United Nations Global Compact
"Humane Capital presents a well-researched argument for the growing importance of humanizing business and Vlatka's narrative incorporates several compelling case studies that demonstrate that 'doing good' is actually 'good business'." —best-selling author of 'Platform Revolution' and 'Platform Scale'; World Economic Forum Young Global Leader; Top 10 HBR contributor; Founder of Platformation Labs
"A powerful, and provocative, blend of case studies, research, and practical implications for making business more personal and the personal more humane." —author of 'Friend of a Friend' and 'Under New Management'
"The importance of human quality is critical to organizational success. Vlatka's Humane Capital will make a difference for business leaders and organizations." —best-selling author; CEO of ASI Consulting Group; Thinkers50 management thought leader
"Humane Capital is an outstanding read from a management scholar who has worked extensively with leaders and businesses. It highlights the thoughts and reflections of 58 business leaders in a lively and entertaining way -many nuggets of wisdom here!" —50th Anniversary Professor of Organizational Psychology & Health, ALLIANCE Manchester Business School; President of the CIPD; President of the British Academy of Management; Immediate Past President of RELATE; President of the Institute of Welfare; Lifetime Achievement Award recipient from HR Magazine
"In Humane Capital, Vlatka gives us a provocative series of insights from the narratives of leaders within different types of businesses. Building on her transformative work in The Management Shift, this is a rich and compelling call to action for anyone looking for success in management and fulfilment as a human being." —CEO of The Institute of Leadership and Management
"Vlatka Hlupic's new book is full of stimulating insights and observations. The book will be interesting for all who want to be a successful manager in today's rapidly changing world." —Nobel Prize nominee; President, CEO of Terra Seismic
"Vlatka's contribution pushes an open door in the direction of how the Fourth Industrial Revolution envisions the role of organizations in the 21st century: Maximizing Human Well-Being. The underlying understanding that building organizations around human centered systems is of cardinal importance, is what makes of this book a wonderful journey, entrenched in some of the most emerging organizational theories as well as applications on the nature of firms today. A must read." —Professor of Business and Economics, Harvard University's Division of Continuing Education; an Institutes Council Co-leader at the Microeconomics of Competitiveness program at Harvard University
"How do you humanize an organization where employees are passionate to work? How do you build a high-performance culture that combines profits and principles? Using dozens of engaging case studies, Vlatka addresses these critical questions in this excellent book." —Edward W. Carter Professor of Business Administration and Chair of the General Management Program at Harvard Business School
"This is a timely book – engagement levels remain stubbornly low – a crushing waste of human potential. This passionate book seeks to address the problem and to create work places which are life-affirming. The argument is enriched with lively case studies and interview material. It deserves to be widely read." —Visiting Professor at IE Business School, Madrid; Fellow at London Business School
"Rich with case studies and stories, Vlatka deftly details the critical importance of a humane and purpose-driven workplace." —Author of 'Open to Think', 'The Purpose Effect' and 'Flat Army'; Chief Envisioner of TELUS.
"With rapidly mounting challenges in the social, economic and environmental sectors, Vlatka Hlupic offers with Humane Capital a meaningful insight into the world of Leadership in business and non-profit organizations. Vlatka gives guidance with inspiring examples on how and why we need to transform and shift our traditional business by embracing a holistic perspective." —Former Director at Google; CEO of Wisdom Together e.V.
"Vlatka has studied an incredible list of 'humane' companies and distilled the practices that more fully engage employees. These are incredible cases and even better insights that can be adapted to any organization. This book reinforces the importance of taking care of people who will take care of customers and others. Very well done!" —Professor of Business, Ross School of Business, University of Michigan; Co-founder of The RBL Group; Wall Street Journal Business best-selling author of 'The Why of Work'; Lifetime Achievement Award recipient from HR Magazine; Thinkers50 Hall of Fame
"Humane Capital is a really thought-provoking analysis of the management challenges facing companies, large and small, in today's fast-moving economy. Most managers recognise the tensions between long- and short-term thinking, and between people and profits. Vlatka Hlupic provides some valuable advice for how to resolve these tensions, to make companies more sustainable and more humane." —Professor of Strategy and Entrepreneurship and Deputy Dean at the London Business School; Thinkers50 management thought leader
"In an era when corporations increasingly treat employees as just another means to their financial ends, and work becomes both more contingent, precarious and controlled, here is a bracing and timely antidote. Treating people well at work is the right thing to do, says Hlupic, with plentiful case studies in support, and there is no downside. No excuses: just do it." —senior editor GPDF; former management columnist for The Observer
"Vlatka's book is a timely reminder of how, more so than ever, it is imperative that businesses wake up to their broader societal responsibilities and recognise that it is possible to do well by doing good. Social good and impact should not be seen as a "nice to have" or trade-off; it is something that companies at all stages can embrace as highlighted by the case studies in the book, shining a light on the best practices within the non-profit, SME and corporate world." —Founder & CEO of Learnerbly; World Economic Forum Young Global Leader
"This book outlines ideas and insights from 58 eminent leaders globally, imploring leaders to adopt humane approach to build their organisations. It enlightens the expectations and aspirations of millennials who constitute predominant workforce globally and encourages gender-balanced organizations to achieve excellence and effectiveness. I strongly recommend reading it" —Author of over 40 Books including '21 Success Sutras for CEOs'; Founder of MSR Leadership Consultants India
"Vlatka Hlupic provides inspiration and direction for those seeking to realize the full potential inside their companies and in society at large. With examples from a wide range of leaders, she shows that high performance begins with a focus on people." —Co-Author of 'Predictable Magic'; Thinkers50 India