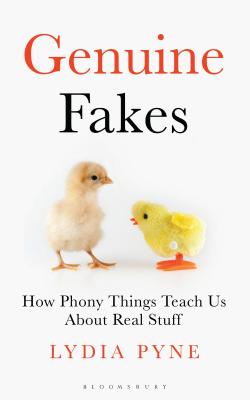 Genuine Fakes (Hardcover)
How Phony Things Teach Us About Real Stuff
Bloomsbury Sigma, 9781472961822, 304pp.
Publication Date: October 29, 2019
* Individual store prices may vary.
Description
Is the distinction between "real" and "fake" as clear-cut as we think?
Does an authentic Andy Warhol painting need to be painted by Andy Warhol? Should we be outraged that some of those famous scenes in Blue Planet were filmed in a lab? Who are the scientists putting ever-more improbable flavors in our Jelly Belly beans? Welcome to the world of "genuine fakes"--the curious objects that fall in between things that are real and things that are not. Unsurprisingly, the world is full of genuine fakes that defy simple categorization. Whether or not we think that those things are authentic is a matter of perspective.
In Genuine Fakes, historian Lydia Pyne explores how the authenticity of eight genuine fakes depends on their unique combinations of history, science and culture. The stories of art forgeries, fake fossils, nature documentaries, synthetic flavors, museum exhibits, Maya codices and Paleolithic replicas shows that genuine fakes are complicated and change over time. Drawing from historical archives, interviews, museum exhibits, science fiction as well as her own research, Pyne brings each genuine fake to life through unexpected and often outrageous stories.
Can people move past assuming that a diamond grown in a lab is a fake? What happens when a forged painting or manuscript becomes more valuable than its original? Genuine Fakes will make readers think about all the unreal things that they encounter in their daily lives and why they invoke the reactions--surprise, wonder, understanding or annoyance--that they do.
About the Author
Lydia Pyne (PhD) is a freelance writer, editor, and historian, and a Research Fellow in the Institute for Historical Studies at the University of Texas of Austin, USA. She is a Contributing Editor for The Appendix and a Reviewer and Essayist for NewPages and New York Journal of Books. She is the author, with Stephen J. Pyne, of The Last Lost World: Ice Ages, Human Origins, and the Invention of the Pleistocene (Penguin, 2013).
Praise For Genuine Fakes: How Phony Things Teach Us About Real Stuff…
"Lively, thought-provoking, and consistently surprising, this book forces us to think deeper about what authenticity and fakery really mean, at a time when such matters could hardly matter more. Lydia Pyne is the real deal." —Ed Yong, science journalist and author of New York Times bestseller I Contain Multitudes
"In turns thought-provoking and entertaining, Genuine Fakes is a vital book in a world of fake news and the search for authenticity. It is an eloquent and surprising exploration of the objects around us, which compels us to ask where we draw the line between real and fake. Sometimes authenticity is no more important than a good story." —Katie Wiles, Senior Editor, History Today
"Genuine Fakes is full of fascinating stories about what Pyne shows is the thin and permeable line between real and fake in many more areas than I thought possible to combine so interestingly and gracefully. The book is packed with the human foibles that leave us vulnerable to the fake when our dreams are too big to be contained in the real." —Erin Thompson, Professor of Art Crime, City University of New York
"In this fascinating, interdisciplinary study, Lydia Pyne challenges us to reflect on the social factors that inspire the creation of replicas, simulations, and forgeries. Ambitious in scope and engagingly written, Genuine Fakes is an authentically wonderful read." —Benjamin Gross, Vice President for Research and Scholarship, Linda Hall Library of Science, Engineering and Technology
"Extremely interesting book on whether something is "real" or "fake" [and whether it] actually makes a difference or not. The author uses several examples of things throughout history that were "genuine" fakes, but uses their stories (forgeries, synthetics, replicas, and so forth) to illustrate to the reader that the difference between "real" and "fake" aren't quite as razor sharp as you think, and may not really matter at all. (5 stars)" —Jesse L., NetGalley
"...the book explores various types of historical authenticity, not just in paintings but in "fossils," synthetic diamonds, synthetic flavors, nature films, blue whale models, and replicas of ancient art where the art itself is too physically sensitive to be exposed to tourists." —Rebecca T., Rivcat blogger, NetGalley reviewer
"An intriguing exploration of 'frauds, forgeries, and fakes'...Genuine history smartly explored." —Kirkus Reviews