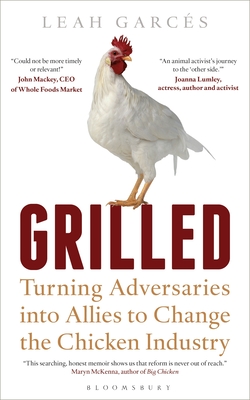 Grilled
Turning Adversaries into Allies to Change the Chicken Industry
Hardcover

* Individual store prices may vary.
Description
This is the story of Leah Garcés's fight for better treatment of farmed animals, as she works with farmers, suppliers and restaurant chains to end factory farming for good.

Leah Garcés has committed her career to fighting for the rights of the animals that end up on our plates. As President of the nonprofit group Mercy for Animals and former US Executive Director of Compassion in World Farming, she has led the fight against the sprawling chicken industry that raises billions of birds in cruel conditions--all to satisfy the American appetite for meat.

Grilled: Turning Adversaries into Allies to Change the Chicken Industry is her story of working alongside the food and farming industry for animal welfare and ethical food. Instead of fighting and protesting and shaming--approaches that simply haven't worked previously--Garcés has instead gotten to know the producers. She has worked alongside owners of the megafarms, befriending them, having frank conversations with them, and ultimately encouraging change through dialogue and discussion. Leah is changing the way America farms her animals through this bold approach, and is helping to directly improve the lives of millions of farmed animals.

When she started her journey, Leah did not have much empathy to spare for the chicken-contract farmer--until she actually met one and tried to understand the difficulties they faced. This is the story of what happens when we cross enemy lines to look for solutions. It's a story of giving in to discomfort for the sake of progress. It's a story of the power of human connection, and what happens when we practice empathy toward our enemies.
Praise For Grilled: Turning Adversaries into Allies to Change the Chicken Industry…
"This is a book about the power we all have to transform the world when we approach our enemies with an open mind and a compassionate heart. Its message could not be more timely or relevant!" —John Mackey, CEO and co-founder of Whole Foods Market

"This book will change the way you see chicken––and our entire food system. Garcés's determination to reform one of the world's largest industries is nothing short of astounding. She is a force!" —Rose Marcario, CEO and President of Patagonia

"An animal activist's journey to the "other side"––the chicken industry––proves that making friends out of foes is one of the bravest, hardest, and most effective ways to create change." —Joanna Lumley, OBE, actress, author and activist

"In this book and in life, Leah Garcés, a fellow vegan, transcends the dogma and single issue thinking that too often constrains the animal protection community. Her writing and her work combine a fighting spirit with a will to unite and move unlikely allies like farmers, farm workers, and even corporations. I'm proud to call her a friend and an ally in the movement for a truly regenerative and sustainable future where all animal lives are respected and allowed to live and thrive. The world needs to read Grilled and heed its important message!" —David Bronner, CEO of Dr. Bronner's

"This book is inspiring to anyone who cares about animals and their suffering. But it's more than that. It's a crucial road map for any activist trying to make real change in the world. It'll teach you the counterintuitive lessons of how to spark a revolution by working with your adversaries." —AJ Jacobs, journalist, lecturer and New York Times bestselling author

"This searching, honest memoir shows us that reform is never out of reach." —Maryn McKenna, author of Big Chicken

"This is a fantastic book for anyone looking to learn more about the heartbreaking realities behind "cheap" meat and the solutions that are being put forth for the future. (5 stars)" —Chad G., NetGalley

"Such an amazing book. It really is one of turning people who have nothing in common to being allies in a just cause. Give it a read. You might find yourself questioning what you believe. (4/5 stars)" —Amanda Y., NetGalley

"Garcés story is about more than animal suffering. It's about the core question of politics: the choice we face, every day, between condemnation and compromise. Whether your issue is health care or climate or civil rights or abortion or taxes or foreign policy, you're faced daily with people working for a world you find repellent. What do you do when they're the majority and you're the minority? How do you maintain your own morality when the system itself is sick? When do you draw bright lines, and when do you erase the lines you've spent your life drawing?" - Ezra Klein, The Ezra Klein Show
Bloomsbury Sigma, 9781472962584, 288pp.
Publication Date: September 3, 2019
About the Author
Leah Garcés was the founder and Executive Director of Compassion in World Farming US and is now the President of Mercy for Animals. She has degrees in zoology and sustainable development and has been fighting for better food and farming systems for her whole career.
or
Not Currently Available for Direct Purchase