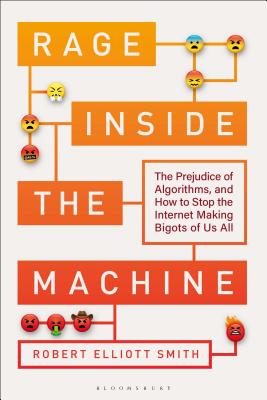 Rage Inside the Machine
The Prejudice of Algorithms, and How to Stop the Internet Making Bigots of Us All
Hardcover

* Individual store prices may vary.
Description
We live in a world increasingly ruled by technology; we seem as governed by technology as we do by laws and regulations. Frighteningly often, the influence of technology in and on our lives goes completely unchallenged by citizens and governments. We comfort ourselves with the soothing refrain that technology has no morals and can display no prejudice, and it's only the users of technology who distort certain aspects of it.

But is this statement actually true? Dr Robert Smith thinks it is dangerously untrue in the modern era.

Having worked in the field of artificial intelligence for over 30 years, Smith reveals the mounting evidence that the mechanical actors in our lives do indeed have, or at least express, morals: they're just not the morals of the progressive modern society that we imagined we were moving towards. Instead, as we are just beginning to see – in the US elections and Brexit to name but a few – there are increasing incidences of machine bigotry, greed and the crass manipulation of our basest instincts.

It is easy to assume that these are the result of programmer prejudices or the product of dark forces manipulating the masses through the network of the Internet. But what if there is something more fundamental and explicitly mechanical at play, something inherent within technology itself?

This book demonstrates how non-scientific ideas have been encoded deep into our technological infrastructure. Offering a rigorous, fresh perspective on how technology has brought us to this place, Rage Inside the Machine challenges the long-held assumption that technology is an apolitical and amoral force. Shedding light on little-known historical stories and investigating the complex connections between scientific philosophy, institutional prejudice and new technology, this book offers a new, honest and more truly scientific vision of ourselves.
Praise For Rage Inside the Machine: The Prejudice of Algorithms, and How to Stop the Internet Making Bigots of Us All…
"In Rage Inside the Machine, Rob Smith has written a fascinating hybrid text – a compelling memoir, a moving mosaic of history and technology, and, most important, the timeliest of warnings for our increasingly dangerous era of ubiquitous AI and algorithms … Read this book and take its carefully crafted message to heart." —David Goldberg, author of Genetic Algorithms in Search, Optimization and Machine Learning

"In Rage Inside the Machine, Rob Smith accomplishes what few people could attempt: to humanize the discourse on artificial intelligence." —Chris Kutarna, co-author of Age of Discovery: Navigating the Storms of Our Second Renaissance

"Rob Smith humanises the dark and confused topic of AI and calls us to action. A beautiful, accessible and truly important book … I loved it." —Derren Brown, illusionist and author of Happy: Why More or Less Everything is Absolutely Fine

"In an age when more and more decisions of our lives are made by algorithms, it's vital for anyone, not just techies, to understand how data can change our lives. Rob Smith has a unique ability to express the complicated future of AI in a very simple manner. Read it if you want to stay human." —Dr Anastasia Dedyukhina, Founder of Consciously Digital and author of Homo Distractus

"Rage Inside the Machine is a guide to how we got here, conceptually and historically. Rob Smith appreciates the successes of AI, but also warns that incomprehensibly complex data driven systems are not easily corrected, and can make major mistakes." —David Leinweber, author of Nerds on Wall Street: Math, Machines and Wired Markets

"Rob Smith shines a light on the dangers of accepting a passive role in our relationship with tech. Essential reading for anyone wanting to know how to keep their sanity and humanity in the age of super-tech." —Helen Bagnall, Founder of Salon London

"Robert Smith's new book takes a subject that is intimidating for non-tech folk, and creates an accessible and riveting read. I found it so informative. It's opened my eye to the role algorithms play in the divisiveness of social media." —Tracy Ann Oberman, actor, writer and activist

"A sobering and inspiring read: not merely a puncturing of the tediously overinflated AI hype bubble - it's also a thrilling manifesto for what AI teaches us about real human cognition." —Cory Doctorow, author of 'Radicalized' and 'Walkaway', and co-founder of the Open Rights Group

"This is a vital addition to the debate on algorithmic decision-making, machine learning, and late-stage platform capitalism, and it's got important things to say about what makes us human, what our computers can do to enhance our lives, and how to have a critical discourse about algorithms that does not subordinate human ethics to statistical convenience." —Boing Boing
Bloomsbury Business, 9781472963888, 344pp.
Publication Date: August 27, 2019
About the Author
Rob Smith authored over 35 journal articles, 10 book chapters, and over 75 conference papers on these subjects. He has conducted research projects for the U.S. Army Strategic Defense Command, The Center for Nonlinear Studies, Los Alamos National Laboratory, Oak Ridge National Laboratories, NASA, Boeing, NSF, EPSRC, the European Union, DERA, British Aerospace, Airbus, and British Telecom. Rob is a former Associate Editor of The IEEE Transactions on Evolutionary Computation, and the journal Evolutionary Computation and a fellow of the RSA: The Royal Society for the encouragement of Arts, Manufactures and Commerce.

Currently, he works as Chief Technology Office for BOXARR Ltd, a company he helped to found. He also works part time as a Senior Research Fellow of Computer Science at University College London, where he was also a founding member of The UCL Centre for The Study of Decision-Making Uncertainty.
or
Not Currently Available for Direct Purchase