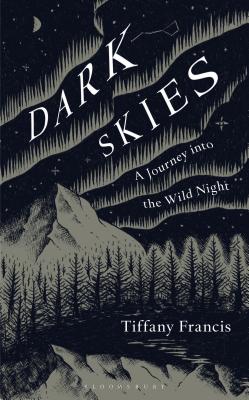 Dark Skies
A Journey into the Wild Night
Hardcover

* Individual store prices may vary.
Other Editions of This Title:
Paperback (1/5/2021)
Description
In this beautifully written nature narrative, Tiffany Francis explores nocturnal landscapes and investigates how our experiences of the night-time world have permeated our history, folklore, science, geography, art, and literature.

Darkness has shaped the lives of humans for millennia, and in Dark Skies, author Tiffany Francis travels around Britain and Europe to learn more about nocturnal landscapes and humanity's connection to the night sky.

Over the course of a year, Tiffany travels through different nightscapes across the UK and beyond. She experiences 24-hour daylight while swimming in the Gulf of Finland and visits Norway to witness the Northern Lights and speak to people who live in darkness for three months each year. She hikes through the haunted yew forests of Kingley Vale, embarks on a nocturnal sail down the River Dart, feeds foxes on a south London estate, and listens to nightjars churring on a Sussex heathland.

As she travels, Tiffany delves into the history of the ancient rituals and seasonal festivals that for thousands of years humans have linked with the light and dark halves of our year. How has our relationship with darkness and the night sky changed over time? How have we used stars and other cosmic phenomena to tell stories about our lives and the land around us?
Praise For Dark Skies: A Journey into the Wild Night…
"Beautifully written...Francis combines memoir, history and some glorious landscape writing to provide a thoroughly absorbing evaluation of the role of darkness and night in our literature, culture and, most importantly, our environment." —Charlie Connolly, New European

"Rich in literary references, Dark Skies is also rippled through with memoir...it's a warmly personal narrative." —Suzi Feay, Financial Times

"This lovely work by Francis (Food You Can Forage) offers musings and observations about nature and nighttime, gathered at her home in England's rural South Downs area and elsewhere in Europe...Francis's beautiful prose and infectious joie de vivre will delight readers of this charming blend of memoir, travelogue, and nature writing." - Publishers Weekly
Bloomsbury Wildlife, 9781472964595, 272pp.
Publication Date: November 5, 2019
About the Author
Tiffany Francis is a writer, artist and environmentalist from the South Downs in Hampshire. With a mixed background in the arts, rural heritage and conservation, her work is fuelled by a love for the natural world and a passion for protecting it. She writes and illustrates for national publications and has appeared on BBC Radio 4 and Channel 4. Her first book Food You Can Forage was published in March 2018.

www.tiffanyfrancis.com
Tiffany Francis is a writer, artist and environmentalist from the South Downs in Hampshire. With a mixed background in the arts, rural heritage and conservation, her work is fuelled by a love for the natural world and a passion for protecting it. She writes and illustrates for national publications and has appeared on BBC Radio 4 and Channel 4. Her first book Food You Can Forage was published in March 2018.

www.tiffanyfrancis.com
or
Not Currently Available for Direct Purchase