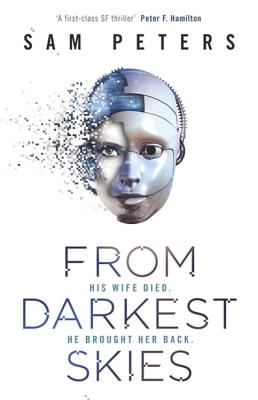 From Darkest Skies
Paperback

* Individual store prices may vary.
Description
After a five year sabbatical following the tragic death of his wife and fellow agent Alysha, Keon Rause returns to the distant colony world of Magenta to resume service with the Magentan Intelligence Service. With him he brings an artificial recreation of his wife's personality, a simulacrum built from every digital trace she left behind. She has been constructed with one purpose - to discover the truth behind her own death - but Keon's relationship with her has grown into something more, something frighteningly dependent, something that verges on love.

Cashing in old favours, Keon uses his return to the Service to take on a series of cases that allow him and the artificial Alysha to piece together his wife's last days. His investigations lead him inexorably along the same paths Alysha followed five years earlier, to a sinister and deadly group with an unhealthy fascination for the unknowable alien Masters; but as the wider world of Magenta is threatened with an imminent crisis, Keon finds himself in a dilemma: do his duty and stand with his team to expose a villainous crime, or sacrifice them all for the truth about his wife?
Praise For From Darkest Skies…
A first class SF thriller. Even though Peters wrapped up the case, I still wanted to know more about the universe of Magenta.—
Peter F. Hamilton
Not only a gripping SF crime thriller but a moving investigation into the limitations and capabilities of artificial intelligence.—
GUARDIAN
A masterly piece of writing and plotting that manages to merge classy space-opera with a police procedural as twisty as a Christie—
Joanne Harris
Immersive SF, full of world-building detail, with a twisted love story at its heart.—
Financial Times
Interesting and powerful—
SFX
It's easy to see why FROM DARKEST SKIES has already been optioned for TV, what with its cinematic action and fast-paced plot, but the real strength lies in the humanity of its characters.—
SciFiNow
Peters' convincing
world-building and a tense plot mean
that this is a debut destined to make
waves.
—
THE MORNING STAR
It reminded me... of Peter F Hamilton's work... I thoroughly enjoyed it and with two more sequels due, it's a solid and promising start.—
FANTASY BOOK REVIEW
Fast and fluid, compelling and above all thoroughly enjoyable.—
SF BOOK
Crime noir in the style of
Blade Runner.
—
THE BOOK BAG
A perfect example of what I like to read—
THE BOOK BUNDLE
Peters has created a masterpiece here with his eloquent writing and fascinating characters.—
RED HEADED BOOK LOVER
All the rigour of a tightly plotted classic crime story with all the technicolour thrills of SF at its most gaudy. Wonderful.—
LOVE READING
Gollancz, 9781473214767, 352pp.
Publication Date: April 10, 2018
About the Author
Sam Peters is a mathematician, part-time gentle-person adventurer and occasional screenwriter who has seen faces glaze over at the words 'science fiction' once too often. Inspirations include Dennis Potter, Mary Doria Russell, Lynda La Plante, Neal Stephenson, and Bill and Ted's Excellent Adventure. Has more hopes than regrets, more cats than children, watches a lot of violent contact sport and is an unrepentant closet goth.
or
Not Currently Available for Direct Purchase