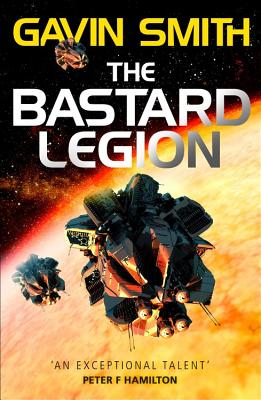 The Bastard Legion (Paperback)
Book 1
Gollancz, 9781473217256, 336pp.
Publication Date: February 6, 2018
* Individual store prices may vary.
Description
'High octane SF adventure with Smith's trademark twist' Jamie Sawyer
'An exceptional talent' Peter F Hamilton
Four hundred years in the future, the most dangerous criminals are kept in suspended animation aboard prison ships and "rehabilitated" in a shared virtual reality environment. But Miska Corbin, a thief and hacker with a background in black ops, has stolen one of these ships, the Hangman's Daughter, and made it her own. Controlled by explosive collars and trained in virtual reality by the electronic ghost of a dead marine sergeant, the thieves, gangsters, murderers, and worse are transformed into Miska's own private indentured army: the Bastard Legion. Are the mercenaries just for fun and profit, or does Miska have a hidden purpose connected to her covert past?
'Gloriously action-packed and often brutal military SF adventure . . . This series launch will keep readers turning pages, eager to see what bloody adventure awaits and how the legion develops into a force to be reckoned with' Publishers Weekly STARRED REVIEW
About the Author
Gavin G. Smith is the Dundee-born author of the hard edged, action-packed SF novels Veteran, War in Heaven, Age of Scorpio, A Quantum Mythology and The Beauty of Destruction, as well as the short story collection Crysis: Escalation. He has collaborated with Stephen Deas as the composite personality Gavin Deas and co-written Elite: Wanted, and the shared world series Empires: Infiltration and Empires: Extraction.
Praise For The Bastard Legion: Book 1…
A fast paced, high action, blood and guts thriller of a ride... the characters are brilliant, the dialogue tight and the world building epic.—THE BOOK BEARD

The characters are well drawn, the action fluid, fast, and excellently written. Both books are cracking reads, and if spaceship level SF is your thing then you should probably snap up both.—Adrian Tchaikovsky

High octane SF adventure with Smith's trademark twist.—Jamie Sawyer, author of The Lazarus War

Gloriously action-packed and often brutal.—PUBLISHERS WEEKLY

Gavin G Smith joined the ranks of 'Masters of Military SciFi' with his book The Bastard Legion, which took many of the preconceived notions of the 'shooty death in space genre' and turned them around.—STARBURST